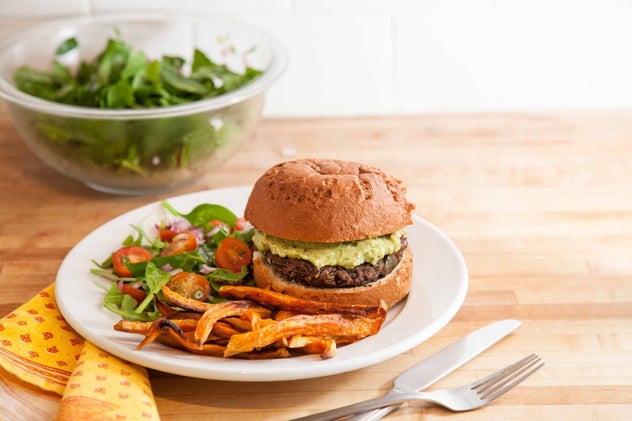 Fire up the grill and flip for this spiced-up, protein-rich veggie burger from triathlete-chef Diane Elmore.
Ingredients
For burgers:
3 T olive oil, divided
1 bunch scallions, thinly sliced
1 poblano pepper, finely chopped
1 jalapeño pepper, finely chopped
4 cloves garlic, minced
1 15 oz can black beans, drained
and well rinsed
½ cup cilantro, minced
½ cup breadcrumbs (gluten-free
if desired)
1 large egg
1 T chili powder
1 T cumin
Salt, to taste
For guacamole:
2 ripe avocadoes
1 T cherry tomatoes, minced
2 cloves garlic, minced
1 jalapeño pepper, minced
¼ cup cilantro, minced
1 lime, juiced
Salt, to taste
Instructions
Heat 1 tablespoon of oil in a skillet. Add scallions, poblano, jalapeño and garlic. Season with a pinch of salt. Cook to soften—about 5–7 minutes over medium heat. Transfer to a food processor. Add the beans and pulse 3–4 times to chop ingredients. (Be careful not to turn the mixture into mush by over-processing.) Transfer the black bean mixture to a large bowl and mix in the cilantro, breadcrumbs, egg, spices and salt. Shape into 4–6 burger patties. Refrigerate, covered, for at least 30 minutes. Heat 2 tablespoons oil in a large skillet. Cook burgers until browned on both sides. To prepare the guacamole, mash the avocado. Then add all ingredients and continue mashing together. Adjust flavor to your liking, then serve burgers with guacamole spread.