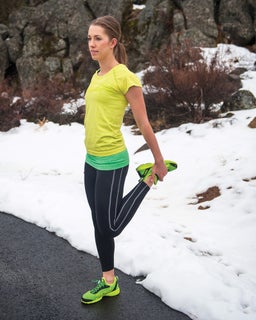 Fuel Smart Tip: Double-Duty Meals
Jen Luebke (who happens to be Lieto's girlfriend) has always been athletic, competing as a swimmer from age 6 to 14, then turning her attention to volleyball before discovering triathlon during her senior year in high school. A pro since 2009, Luebke credits her mother "big time" with helping her establish a strong self-image and healthy eating habits. "My mom gained a lot of weight when we were younger, but she totally turned it around with nutrition and exercise. And she always said, "I don't believe in the word 'diet!' She didn't do anything crazy or cut anything out—she just started eating a balanced mix of fruits and vegetables, proteins and carbs, and she exercised. It made my sister and I very aware of how we ate—but in a good way."
Luebke says she's most successful with her nutrition when she can plan ahead. But with a 35-hour-a-week job as an administrative assistant in a biomechanics lab along with triathlon training, her time is at a premium. "I'm always in a rush: to get to work, on my lunch hour, to get food in my stomach post-workout," says Luebke. "So I'm a big fan of ingredients that are partially prepared. Trader Joe's is great for those make-your-meal-faster ingredients: sauces, pre-chopped vegetables and marinated meats."
Below, Luebke shares a "double-duty meal" she enjoys making for dinner, then transforming into lunch the next day.
DINNER
Entrée: Grilled Chimichurri Chicken Salad
Sear chicken breasts in a pan lined with olive oil. Simultaneously, prep the chimichurri (an Argentinian pesto-like sauce). Using a little blender (I love the Bullet), combine 1 cup packed fresh parsley leaves, 2 teaspoons oregano, 1 tablespoon crushed garlic, 1 teaspoon salt, ¼ teaspoon finely ground black pepper, ¼ teaspoon crushed red pepper flakes, 2 tablespoons red wine vinegar and ½ cup olive oil. Lay the chicken on a bed of fresh greens and drizzle a tablespoon of chimichurri sauce on top. Voila!
Side: Coconut, Black Bean, Yam and Kale Salad
Cook 3–4 whole yams (in the oven if you have time; otherwise in the microwave on the "potato" setting). While yams are cooking, combine a can of rinsed black beans in a small pot with a can of light coconut milk and 2 cups of firmly packed chopped kale. Begin cooking on low. Once the yams are cooked, chop them and add them to the mix. Let the pot simmer until everything has thickened a bit. Add salt to taste and enjoy! (This makes a delicious side and is just as good the next day, hot or cold.)
LUNCH
Chimichurri Chicken or Veggie Tacos
Warm 2–3 soft corn tortillas (11 seconds in the microwave or on the stovetop if you're not in a hurry). Fill the tortillas with leftover chicken and chimichurri sauce. Or, if there's no chicken left from dinner, try the "Healthy 8 Chopped Veggie Mix" from Trader Joe's: green cabbage, red cabbage, carrots, broccoli, jicama, green bell pepper, radish and celery. Combine the chimichurri tacos with leftover cold coconut, black bean, yam and kale salad and you'll have an easy, delicious and nutritious lunch!