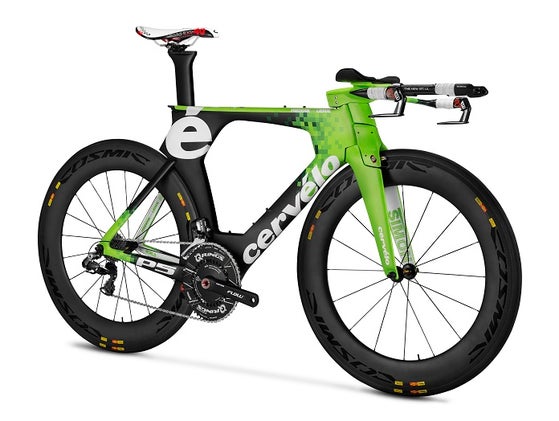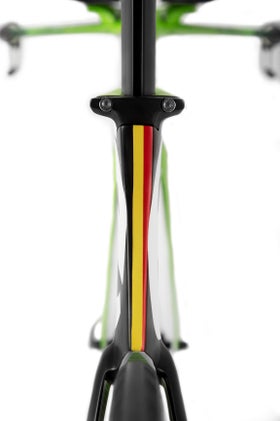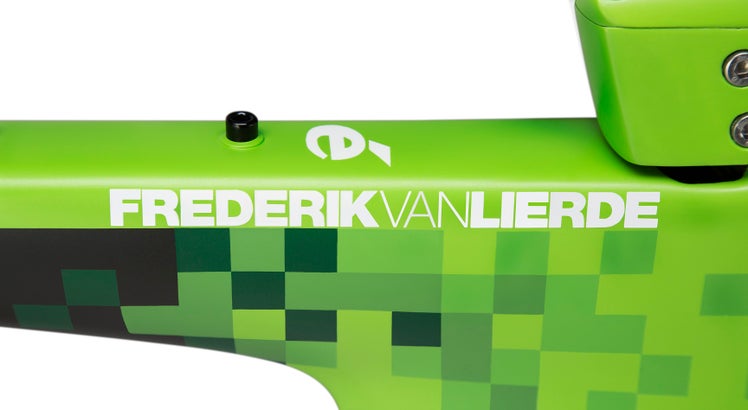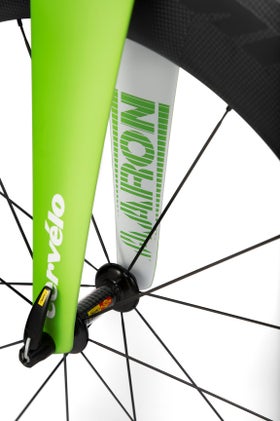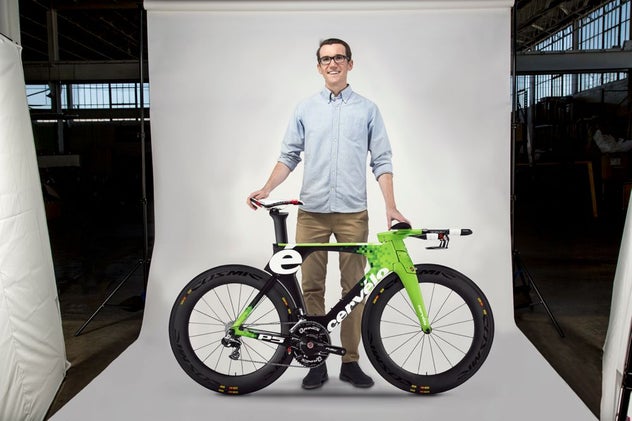 Cervélo today revealed the custom-painted P5 that 2013 Ironman world champion Frederik Van Lierde will ride for the rest of the season, starting with this Sunday's Ironman 70.3 Pays d'Aix in France. The special edition bike features unique graphics from Cervélo's lead designer Tom Briggs.
"Creating a custom P5 for a World Champion was both interesting and challenging on a number of levels," Briggs said in a press release. "First the bike needed to be personal, reflecting Frederik himself and his driving motivations. Secondly it needed to retain Cervélo's brand characteristics while also pushing the bike graphically outside of our model line to create something completely unique. Finally it had to evoke a feeling of speed. Speed is an inherent characteristic of the Cervélo brand, and something I wanted to show in relation to our world champion."
Van Lierde was included in the design process.
"After back-and-forth sessions with Frederik I was able to distill that his driving motivation was his family," Briggs continued. "His two sons, Aaron and Simon, along with his wife Sofie, were clearly the most important elements in his life so including them on the bike was crucial. Frederik is also a living embodiment of an athlete pushing personal limits in the quest for speed through technology."
Custom graphics include:
• Frederik Van Lierde's name on either side of top tube
• Pixelated head tube, top tube and down tube
• Pixelated seat stays and chain stays
• Pixelated handlebar
• Ironman World Champion Badge on top tube
• 2013 Ironman World Championship time on top tube
• Belgian flag on rear of seat tube
• Aaron and Simon (his sons' names) on inside of fork blades
• Sofie (his wife's name) on inside of seat tube cutout
• World Champion called out on inside of chain stays
• Frederik Van Lierde's name on inside of seat stays
• Cervélo wordmark on either side of downtube
• Cervélo 'é' on either side of seat tube
• Cervélo wordmark on outside of fork blades
• P5 logo on outside of chain stays