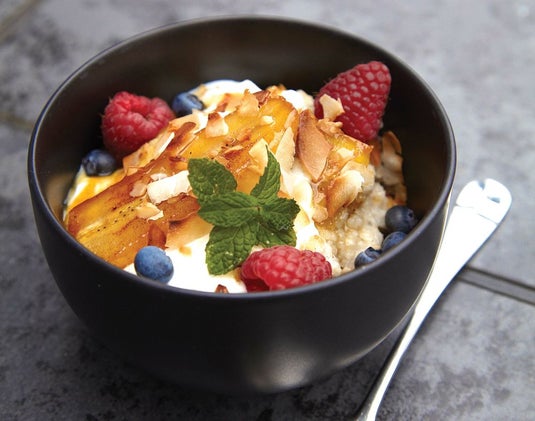 Serve up this satisfying breakfast from triathlete-chef Corey Roberts before your next long ride.
Ingredients
8 ounces mixed grains (rolled oats, rolled rice, rolled barley and kibbled rye)
1 tsp salt
14 ounces coconut milk
1 ounce organic trail mix (nuts and dried fruit)
1 fresh apple or pear (cored and diced into ¼-inch cubes)
3 tsp butter, divided
1 ounce mixed fresh or frozen organic berries
2 bananas
3 T golden syrup (can substitute maple syrup)
4 T vanilla Greek yogurt
2 T toasted coconut flakes
Directions
Bring 14 ounces of water in a saucepan to a boil. Add the salt and mixed grains, and stir to combine. Cover the saucepan and turn off the flame, leaving for 10 minutes. Add the coconut milk, organic trail mix and diced apple or pear to the mixed grains, place over a medium flame, stir and bring back to a simmer. Remove from the flame and stir in 1 teaspoon butter and the berries. Cover and let sit until you are ready to serve. Cut bananas in half vertically and then in half horizontally. Heat frying pan with 2 teaspoons butter. Place bananas in, flat side down, and fry 1 minute. Add the golden syrup and cook for 30 seconds more. To serve, equally divide the oatmeal among four bowls, then place the bananas in the bowls fried side up. Drizzle a little golden syrup over the oatmeal, then top with a tablespoon of vanilla Greek yogurt (per bowl) and sprinkle with toasted coconut.