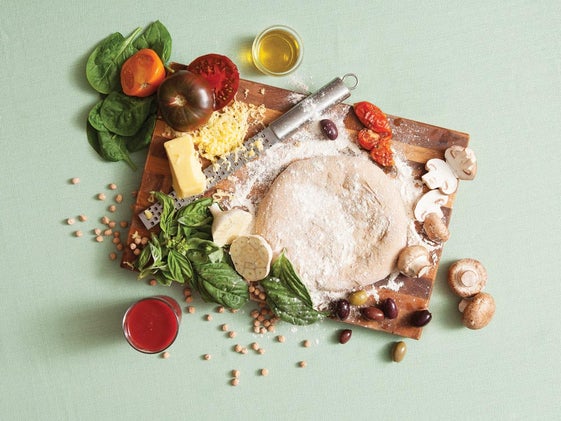 Jamie Marchio, R.D.
A former college distance runner, Marchio started researching nutrition to see how he could maximize his performance. This inspired him to study nutrition in school, and he became a registered dietitian almost 20 years ago. He's since worked as a clinical dietitian in hospitals, but he's now in St. Augustine, Fla., working as a medical device sales representative, which still incorporates his nutrition experience. He works with the clinicians who are taking care of ostomy and wound care patients on how nutrition can play a role in their recovery.
He started racing triathlon in 1996, after his body began breaking down as a result of his running career. To rehab after injuries, he'd swim and bike, and was inspired by fellow athletes to try triathlon.
"It just kind of clicked," he says. "I could be a more fit athlete than I was as a runner, and I wouldn't be breaking down all the time."
He's raced everything from sprint to Ironman, but still loves the all-out nature of sprints. Outside of work and training, he's a husband and father to two kids, ages 6 and 8, and his personal nutrition helps him get through each day.
"I don't think I could have the energy to do what I do without proper nutrition," he says. "It just helps every facet of my life."
Nutrition Philosophy
"My goal is to obtain as many nutrient-dense foods as possible whenever I eat. A plant-based diet has allowed me to do that and has eliminated my desire for snack foods. When you eat foods that are higher in nutrients such as nuts, seeds, fruits, vegetables and whole grains, you start craving these foods more often and adopt better dietary practices naturally without much effort."
Workout Fuel
"Honey Stinger gels, bars, wafers and chews are my favorite. I love the fact that they are organic products and meet the nutritional profile necessary for sustained energy during intense exercise. The carbohydrate component — honey — is more natural and breaks down quickly and easily without any major G.I. side-effects."
RELATED: 3 Foods Triathletes Should Avoid
Pre-Race Dinner
"Our family has pizza night for Daddy the night before a race. This is part tradition, part superstition. It includes 3–4 slices of whole-grain thick crust, dairy-free cheese, sun-dried tomatoes, spinach, pesto base, olives, mushrooms and extra sauce with one Blue Moon beer. Before bed, I have 6–8 ounces of natural juice. … It provides a nice combination of carbohydrates, some protein, and is generally low in fat so it is not heavy on the stomach. It also gives me enough staying power to last until my pre-race breakfast."
Kitchen Necessity
"I couldn't live without my Omega Juicer. I juice on a daily basis and make about 32 ounces of all-natural juice, which supplies my needs for an entire day (3–4 servings of about 8–10 ounces)."
In His Pantry
"My favorite ingredient to use in cooking is garlic. It is tasty and versatile and very healthy. We use it as a spread on crusty bread, add it to our tomato or pesto sauce, in pizza, in oil for dipping, and to make hummus."
RELATED: Daily Eating Plans From These 5 Dietitians
Get the latest in triathlon training, gear, nutrition and news sent straight to your inbox. Sign up for Triathlete's newsletter.