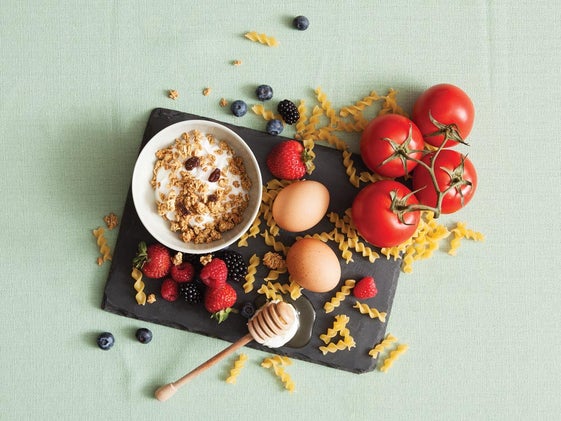 Lauren Antonucci, R.D., C.S.S.D.
A longtime triathlete and nutritionist, Antonucci is the owner and director of Nutrition Energy, a private nutrition practice in New York City. What originally drew her to sports nutrition was growing up a competitive swimmer and runner and figuring, "There's got to be more to this than bagels and pasta."
She received her clinical master's degree in nutrition from New York University, and opened up her practice 10 years ago. She now balances her time between being a mom to her three kids (ages 7, 5 and 2), training for triathlon, seeing clients three days a week, and consulting and writing for companies and publications (you may recognize her as our own "Nutrition Q&A" writer).
She's been racing triathlon since 1999, when she signed up for a half-Ironman on a whim through Team in Training (it must have been fate — her now-husband signed up for the same team). She was hooked and has raced everything up to Ironman, but she's waiting till her kids are all in school before she attempts the distance again. Meanwhile, she races shorter events and loves that she can share her experiences with her clients.
"I think it's really important that someone who talks about food and nutrition and health all the time that of course you practice what you preach," she says.
Nutrition Philosophy
"Balance! I have worked with countless triathletes, endurance athletes and non-athletes who come to me confused about what to eat when. Either they are trying to eat 100 percent 'this' or 100 percent 'that' — such as gluten-free or all-natural. They're putting more pressure on themselves than is natural or healthy, or eating way too much of one macronutrient (carbs, protein or fat) at the expense of the other. If we focus on getting in mostly good quality foods from a variety of food groups, and not perfection, food trends or fads, we will end up eating a fun, balanced, nutritious diet — and setting a good example for our kids."
Pre-Race Dinner
"I know I want to feed my body carbs and extra sodium, and I really want to keep it pretty simple, whether at home or away. Bread, pasta with a basic marinara sauce, small salad or small side of veggies. … If I am away and can't find pasta — or, as has happened to me before, all local Italian restaurants are full with other race participants — I'll eat pancakes with 1–2 eggs and a side of fruit."
RELATED: The Benefits Of Beets
Go-To Snacks
"If I've already worked out, I'll grab a 2 percent Greek yogurt with my homemade granola, or a Kind Bar if on the go. Fruits are always snacks for me, but I generally pair them with some cheese, like Grana Padano or a good honey chèvre. … Pirate's Booty [baked rice and corn puffs] often sneaks into afternoon snacks when I am craving salt and the kids are snacking. For pre-workout snacks, I grab a banana, homemade banana or pumpkin muffins (always with chocolate chips!) or some graham crackers."
In Her Fridge
"I love and always stock Better than Bouillon veggie stock in my fridge. It is a paste bouillon, so it can be added in small amounts as you desire. I use it to add flavor to grain dishes and soups when I don't have time to make (or have an already frozen) homemade stock."
Kitchen Necessity
"I love my To Go Ware stainless steel food containers. I pack dinner leftovers in them to bring for lunch (for both myself and my kids), tote my morning oatmeal to work in them, and pack cut fruits, veggies and cheese in them for family trips and picnics. They are lightweight, never leak and they are dishwasher safe."