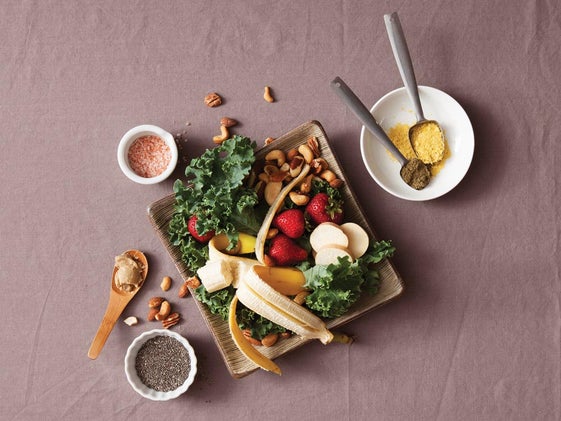 Jennifer Lentzke, R.D., C.S.S.D.
First-year Canadian pro triathlete Lentzke's athletic background includes about a decade of dancing with a professional ballet company and walking on to Baylor University's cross-country team. When she went to grad school to become a sports dietitian at the University of Florida, she considered herself a runner — then she met her now-husband, an Ironman triathlete.
It was a slow progression from taking up cycling, to racing triathlon, to winning her age group as an amateur, racing in Kona and Vegas, and finally becoming a pro triathlete.
"I'm kind of at the bottom of the totem pole again, racing professionally but working my way up slowly but surely," she says.
Now living in Austin, Texas, she owns her own company, Toro Performance Nutrition, and works full-time hours in between her training. A vegan, Lentzke views her nutrition as not only a way to improve her athletic performance, but also as something to keep her healthy while racing long-course triathlon.
"What I do is very extreme," she says, "and I want to make sure that what I'm putting in my body is not only going to help me with the here and now, but it's also going to carry through so that I have longevity and I'm healthy for long periods of time and I can stay active."
Nutrition Philosophy
"One of the most important nutrition principles to remember is 'eat whole foods.' Your day-to-day diet should include little to no processed or packaged foods. When in doubt I always tell my clients to ask themselves before they eat something, 'Is this food going to give me quality energy, or is it going to zap my energy?' You can't go wrong, generally speaking, if you are eating foods in their most natural, unaltered form."
Post-Workout Meal
"Large smoothie with fruit, greens, cooked sweet potato (my secret smoothie ingredient), plant-based protein powder, sea salt, cinnamon, non-dairy milk, scoop of all-natural seed or nut butter, spoonful of ground chia seeds, ice."
RELATED: Training And Racing With Whole Foods
Go-To Snack
"Undoubtedly I reach for my beloved mixed nuts. A handful of salted nuts is always just enough to leave me feeling satiated and energized. The mix of protein, fiber and healthy fats keeps my blood sugar steady until I can get around to eating a proper meal."
In Her Pantry
"As a vegan, I rely heavily on nutritional yeast, which is a great source of B12, the only vitamin that vegans cannot get from eating a plant-based diet."
Kitchen Essential
"My husband and I are obsessed with our Vitamix. Not only do we make our post-workout smoothies in it, but I can also make homemade nut butters, fruit purées for training and other delicious creations in it."