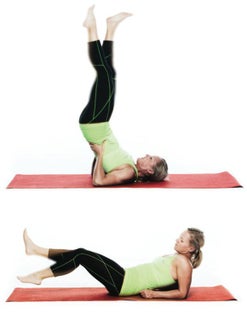 Ankle Flexibility Exercise: ƒFreestyle Kicks
Do flutter kicks for one minute, three different ways, with 15 seconds' rest in between:
Straight-leg kicks on shoulders: Lie on your back and lift your legs straight into the air while staying on your shoulders. Support your back with your hands if needed. In a nearly vertical position, make fast, tight flutter kicks from the hip.
Straight-leg kicks on elbows: Lying on your back, lift your upper body off the ground about 25 degrees, supporting yourself on your elbows. Kick with straight legs for one minute.
Flick kicks: In the same position, bend the knees slightly and flick the ankles as loosely as they can be as fast as possible. Try to hold this speed for one minute (which will take some practice). ƒ