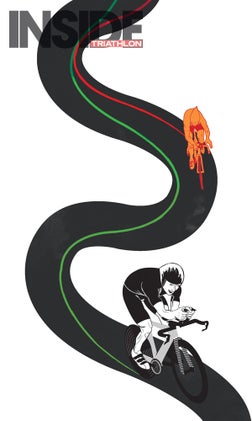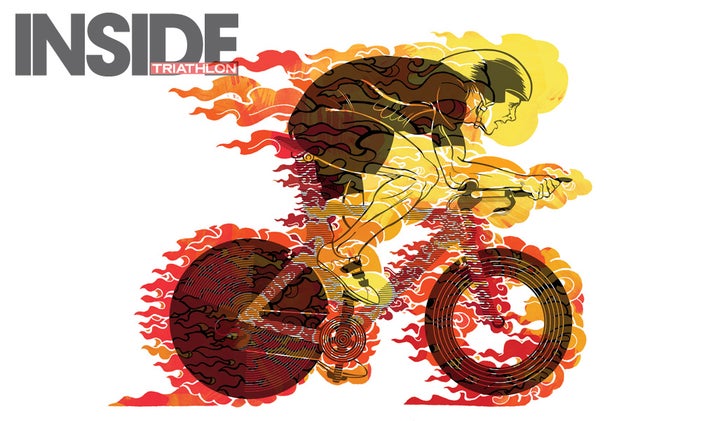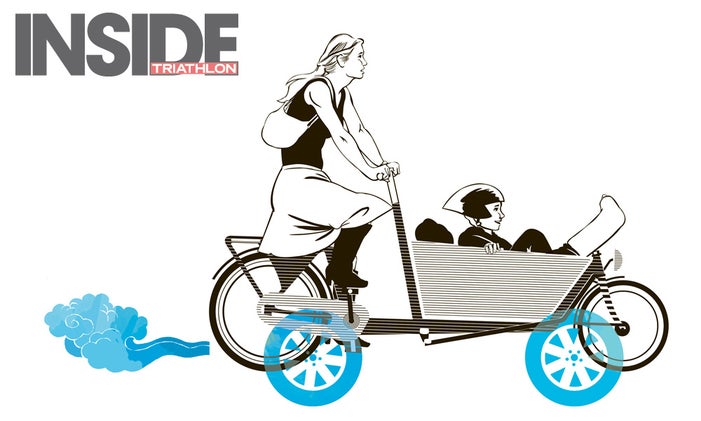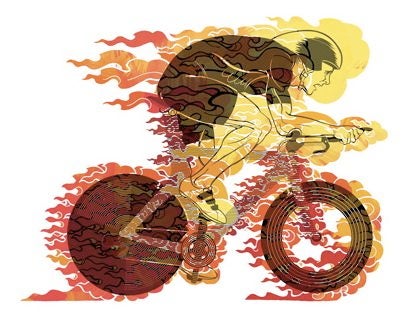 Want to be the fastest cyclist you can be? Use these tips from one of triathlon's greatest.
This article was originally published in the July/August 2011 issue of Inside Triathlon magazine.
It was one of those early spring days. The sun was out for the first time in months, shining from a clear blue sky. It was still cold, with the temperature just creeping above 50 degrees Fahrenheit, but the air had the crisp freshness you only find when the winter has finally given way to spring. I was 10 days away from my first race of the year and aboard my time-trial bike for a final test—a double TT session on one of my favorite training courses close to my home. It was an 18.1-mile loop of undulating terrain on uninterrupted roads in the Danish countryside. I knew the course like the back of my hand. I had done it hundreds of times and knew exactly which line to take around every corner whether it was wet or dry. I knew which gear to push over every hill relative to my fitness, speed and freshness for the day. Over the previous several years, I had written down numerous splits and power and heart rate data during all kinds of weather and could recite most of them without blinking, giving me intuitive and exact feedback on my performance at any given place on the course.
After an hour warm-up, I did one lap at my estimated half-iron pace, as this was the race distance for which I was preparing. Despite the cold weather I made it in 43:33 and felt very comfortable, averaging just over 25 mph. After a 15-minute spin, I prepared for the second loop, which was my actual test for the day—one lap all-out. I stripped my pockets, dropped my wind vest and only carried a small bottle of water.
I felt good and started aggressively up the first hill. My legs opened immediately, and I continued pushing over the hill and down the other side. My legs were turning faster and faster. I felt the power from my entire body transferring into the pedals. My upper body was steady despite the force generated from each stroke, my glutes fully firing in synchrony with my quads and calves. It almost felt like I was riding on top of the pedals, like there were no dead spots in my pedal strokes, and I could just turn and turn no matter how high a gear I chose. The road disappeared quickly beneath me, and the asphalt transformed into a gray mass. The wind was whirring past my ears, and I settled into a rhythm at the very top end of my ability, guided by my subconscious sense of it being one of those special days. I stormed through the halfway point in a blistering split yet continued to search for the sweet spot with my gears. The final stretch of road was straight, with no corners but a few significant hills. I was tired but able to let it all go, powering over each hill—stretching myself to my limit—before hitting the descents in my most aerodynamic tuck. Despite my fatigue, my body and legs were still working in symmetry—flowing. I put it all on the line up the last hill and sprinted the final kilometer of the loop. My watch said 41:07, which was my personal best split by far in cold and windy conditions. I had just experienced uberbiking!
Each generation of triathletes has a select group of individuals with the right mind and body to go the distance on the bike in the biggest and most important races. Thomas Hellriegel, Jurgen Zack, Normann Stadler, Chris Lieto and myself are all examples of such uberbikers—guys whose weapon of choice was and is the bike. We are not afraid of getting wind in our noses and have all boldly made moves early in many important races, becoming the sole focus of the fleet-footed chasers.
But what does it take to be out there all alone coming into T2—to become so powerful on a bike that you can literally leave everyone else in the dust?
A Viking's Tale
My native Denmark is a cyclist's paradise. There are bike paths everywhere and miles of quiet roads with little or no traffic just a few steps from any front door. I grew up in a town with separated traffic, where there were long systems of paths that were safe for kids to ride on to and from school, a friend's house, a soccer field or a swimming pool. We did not own a car and hence had to bike everywhere—my mother once took me to the hospital in a bike trailer to get the cast from a broken leg removed. My leg was sticking out of the trailer, up in the air, for the entire journey. During summers we would often go on longer bike trips around Denmark as a family, and once we even biked for three weeks in France. Like the east Africans who get to where they need to go by running, we biked to get around.
I took up triathlon at age 14, in 1990, after two years of competitive swimming. My tri club was 7 miles away, and on top of my long Sunday rides and occasional weekday time trials, I always biked to swim and run practice. My mom and dad split when I was a young kid, but we still visited my dad every other weekend, and I often biked the 50 miles back and forth. During one of the first summers after I became a triathlete, I biked 70 miles to a city where we would spend a vacation. It was the first time I ever bonked. There was a severe headwind during the entire journey and the final 10 miles were over wide-open terrain. I was still far from mentally skilled in the art of suffering, and I was so tired that I cried for the full 10 miles. But I got through them. I had to—there were no cars, no cell phones, no gas stations and no dear mum.
At the age of 18 I took part in a study at the University of Copenhagen where scientists measured my VO2max, which was well into the 70s. (The average VO2max for a healthy young male is 45.) Despite my young age, I was already keenly interested in exercise physiology, and I knew that such a high VO2max was largely genetically determined and a sign of big potential. I was convinced that other elements of peak performance such as technique, tactics, mental toughness and nutrition could be developed, so my high VO2max sparked a belief in my own ability that lasted throughout my career.
My development, however, took longer than I expected, and I spent many years learning how to train. It was not until after I was selected for the ITU Long Distance Triathlon World Championships in 1998 that I was able to endure the pain and develop the discipline needed to train consistently on an elite level. After being selected for the Danish national team, led by Gabor Kløczl, I quickly got absorbed in the group environment around him and the big Danish star at that time, fellow uberbiker Peter Sandvang. Kløczl's philosophy is one of the secrets to my bike skills: intense training. He believed in intensity over volume and that the training should be race-specific almost year-round. We did two time trials of anywhere from 30 to 90 minutes every Tuesday and Thursday. Each time trial was literally an all-out race with a self-enforced 10-meter non-drafting rule and a handicapped start based on the previous week's performances. At the time, the day-to-day ability levels of me, Sandvang and a fellow teammate named Allan Månsson were virtually identical, which made for a fiercely competitive environment.
On top of the weekday time trials, we did a Sunday ride—68 brutal miles where we would average more than 27 miles per hour despite stopping at traffic lights and sometimes holding back for slower traffic in front of us. Only the toughest triathletes, Cat. 1 and ex-pro riders could hang with us until the end, and many skilled riders had sore legs for days after attending our 2.5-hour maximal effort session.
While the volume we did was unexceptional, the intensity and extremely competitive setting taught me how to suffer, which is something I used when I began to train on my own and is a key skill for anyone striving to become a great triathlete. After the early days with the Danish national team, I only very rarely sat behind anyone. I took pride in getting wind in my nose. I also took pride in training in the worst possible conditions, such as wintertime in Denmark or on the rough, hilly roads of Lanzarote in the Canary Islands, where I spent many weeks each winter for several years.
In early 2003, my career took a turn for the better, and I became increasingly more focused and professional in my attitude toward the sport. By then, Kløczl had left the federation and was replaced by Michael Krüger, who introduced me to the German method of high-volume training. For the first time in my career, I broke 30 hours of training in a week. I did most of it in the saddle, and the countless hours made me begin to feel like I was living on my bike. I often found myself going through the morning routines with the family in a haze, not fully awake until I was an hour into yet another five-hour ride.
This high-volume regime helped transfer the speed I developed with Kløczl's intense program to longer distances, and it kick-started a string of significant victories—victories that were won on the bike—including the ETU Long Distance Triathlon European Championships in 2003 in Fredericia, Denmark, and the ITU Long Distance Triathlon World Championships in Sater, Sweden, in 2004.
In 2003 I also formulated the goal of winning the Ironman World Championship in Kailua-Kona, Hawaii, and started working with mental coach Lars Nielsen, who was a former rower and peak performance specialist. He helped break down, in the tiniest details, what it would take to win, which gave me a very clear idea of the race I would need to have and the work it would require. I believed that becoming the best triathlete in the world meant that I needed to become the best at every little aspect of the game. I needed to train the hardest, create the best team around me, eat better than everyone, become the strongest mentally, have the best equipment, the most aerodynamic position—the list goes on. No detail was too small, and I worked under the motto that even though Ironman is an eight-hour race, I only needed a single second to win.
From 2003 until 2007, I honed my bike skills (as well as my swim and run skills) with the iron distance in mind. My time trials became longer, and I routinely suffered through five- to seven-hour rides at a very high average pace. I went to the wind tunnel and perfected my position. I tested every piece of equipment and every new training method that could potentially give me an advantage. I even started developing my own equipment if I felt I could build something better than what was currently available on the market.
While I never reached my goal of becoming the Ironman world champion before I was forced to retire from the sport in 2009 due to a heart valve abnormality, I did break the bike course record in Kona in 2005—my split of 4:21:35 is still the second-fastest split of all time—and I finished on the podium, in third, in 2007.
RELATED – Kona Confidential: Uber Bikers Chris Lieto & Julie Dibens