Other Reasons
While the goal of transforming Kenya into a triathlon powerhouse may be utterly hopeless, the effort to take the sport to Kenya might still be worthwhile. There's more to triathlon than winning, after all.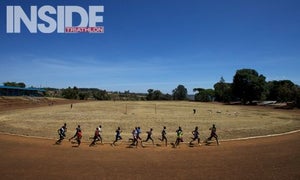 Take Mutinda, one of the two triathletes Schwieger brought to the United States in 2002. When Schwieger first met Mutinda four years earlier, he was destitute.
"Titus would get up in the morning and spend $2 or $3 to buy a couple of pairs of pants and then stand on a corner and try to sell them, and then take that profit and buy some bread on the way home for the family. Then start all over the next day," Schwieger said.
And now?
"After his experience here he began to get a little confidence," Schwieger said. "He's been able to buy a house and start a little business. His wife does sewing and clothing repair and they have a little store in their house. So that's been a huge success story. That's really what I was hoping for."