The following story was printed in the May/June 2011 issue of Inside Triathlon magazine, and it won the highly prestigious Min Editorial & Design Award for best Opinion/Commentary (Editorial Print), beating out Sports Illustrated and Travel+Leisure, among others, in the process.
Consider, if you will, the following illustration of deductive reasoning:
Great runners often make very good triathletes.
Kenya is a nation that produces lots of great runners.
Therefore Kenya ought to be able to produce some very good triathletes.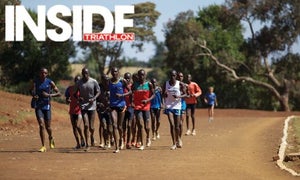 Many of us have thought through this three-step logical sequence in the privacy of our minds. Some of us have gone a step further and played a little parlor game with fellow triathletes, of predicting what would happen if one or more Kenyan runners added swimming and cycling to their training and entered a major triathlon competition. One triathlete has gone even further and carried out this experiment.
In 1998, Kevin Schwieger, a triathlete and Presbyterian minister in Ohio, started a triathlete development program in Kenya. Born and raised by missionary parents in that country, Schwieger retained a passion for all things Kenyan that got mixed with his passion for triathlon as an adult.
"I began to think, boy, Kenyans have dominated the sport of distance running," he recalled. "It just makes sense that they would also be good at triathlon, which is also an endurance event."
A frequent visitor to Kenya for missionary work, including sports-related projects, Schwieger organized a triathlon camp in the capital city of Nairobi with a view toward grooming some Kenyan athletes for the debut Olympic Triathlon in 2000 and establishing a national system of triathlete development that would eventually make Kenya a global powerhouse in the sport.
Schwieger began to see how naïve his ambition was on the first day of the first camp, when exactly one boy showed up. Schwieger was able to round up more attendees by advertising free lunches, which goes over well in a nation with rampant poverty, only to discover that none of them knew how to swim.
"There are very few opportunities to even get in a body of water in Kenya," Schwieger said. "There's just a handful of swimming pools in the whole country."
One of those pools existed at the private school where the camp was held. Two of the young men who proved brave enough to enter it were Silvester Daudi and Titus Mutinda.
"These guys had literally never been in water up to their waists before," Schwieger said. "The first time they jumped in the pool they were so fearful that water was going to go in their ears and up their noses. They literally just kind of fell down in the water. It was like teaching a toddler to swim."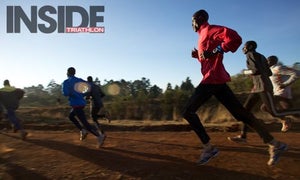 To their credit, Daudi, then 22, and Mutinda, 34, persevered, eventually learning to swim with competence, if not with much speed. They also learned how to ride bikes without falling over, and were able to transfer some of their running ability to two wheels.
Running itself, of course, was not a problem. While Daudi and Mutinda were nothing special by Kenyan standards, they were both exceptional by triathlon standards. Daudi was capable of running marathons in the low 2:30s, and Mutinda was even faster.
In 2002, Schwieger brought the two men to the United States to continue training and to compete in some triathlons. They gained valuable experience in a series of short-course events in Ohio and then traveled to Madison, Wis., for the inaugural Ironman Wisconsin. This was to be their grand coming-out party, the shocking debut that would make the world stand up and take notice.
It didn't quite work out that day. Daudi finished 442nd, in 11:43:47. Mutinda (whose name appears as Titus Nzwili in the results) was almost 40 minutes back, in 774th position.
"They spent several hours looking forward to the run," Schwieger summarized.
But they did not even run especially well. Mutinda ran a 3:23:36 marathon, 37th best in the race, while Daudi managed a solid but unexceptional 3:16:35, which was bettered by 16 others.
Both men were pretty much done with triathlon after that. Considering where they started, they achieved quite a lot. However, they fell far short of achieving enough to unleash the great Kenyan invasion of triathlon in the way that Ethiopian Abebe Bikila's surprise victory in the 1960 Olympic Marathon opened the floodgates for the East African takeover of distance running.