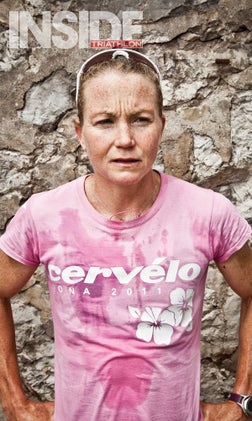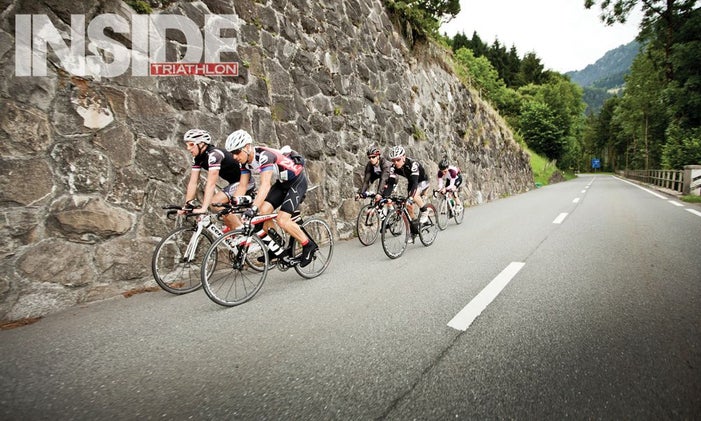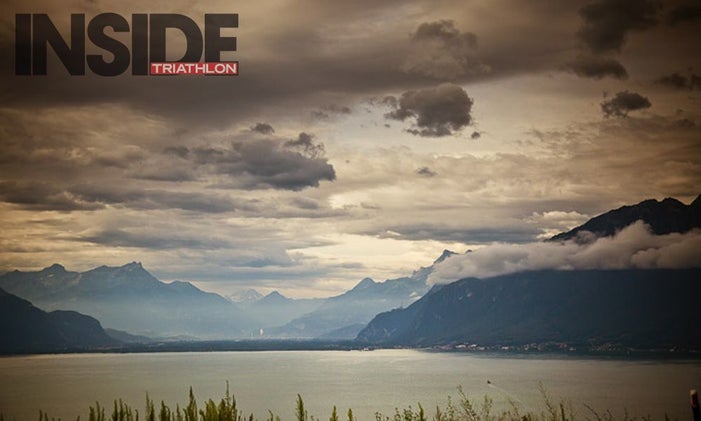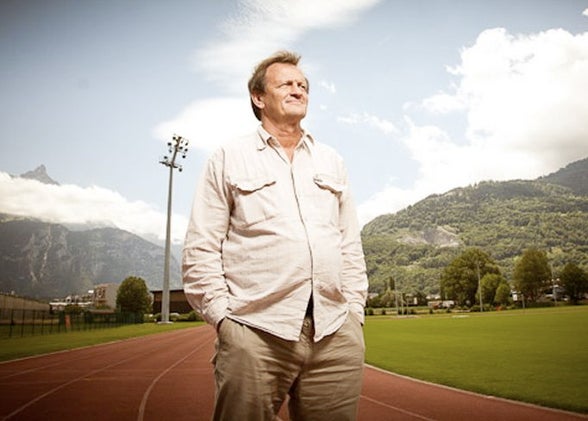 The trial-by-fire coaching method Brett Sutton applies at his Team TBB training camp in the Swiss Alps has created some of the sport's greatest champions and most spectacular burn-outs.
This article was originally published in the Nov/Dec 2012 issue of Inside Triathlon magazine.
Elite age grouper Brett Carter sits quietly in the back seat of the dented Subaru van as the snowcapped Bernese Alps glide by the windows. He is nervous. Beside him sits four of the world's strongest Ironman triathletes, all clad in running shoes and shorts. The men laugh as they guess the distance of the upcoming run. Ten miles? Twenty miles? Longer? He wouldn't do that, would he?
Nobody knows, certainly not Carter. Just four days earlier he'd landed in Geneva to begin his tryout with Team TBB and its Australian coach, Brett Sutton, whose history of molding champion triathletes is equaled by his reputation for crushing others. Carter has heard the stories of Sutton's meat grinder Swiss camp: the 220-kilometer rides around Lake Geneva; the mind-numbing track workouts; the two-day ride across southern France to race in the Alpe d'Huez Triathlon, followed by a two-day ride back. Sutton had told Carter that his first days in Switzerland would be an easy introduction to the TBB lifestyle. But as the van speeds farther away from the team's home base in Leysin, Carter assumes the pleasantries have ended.
Just outside the town of Martigny, the van abruptly stops. Sutton steps out from the driver's seat and greets his athletes. He gives simple instructions—run the 26 miles back home. The pace is to be conversational; nobody should be dropped. When the group hits the 6-mile, 3,000-foot climb back to Leysin, it is every man for himself.
"I remember thinking, 'Oh shit, this is going to be long,'" said Carter, a few days after the run. "I just kept thinking about that hill."
Sutton drives off, and the group begins jogging, Carter running alongside James Cunnama, Stephen Bayliss, Mathias Hecht and David Dellow. An hour in, they round a bend and see the dented white van parked next to the road. They hear Sutton yelling. The pace is conversational, he reminds them, so why isn't anybody talking? Twice more Sutton appears by the road, each time yelling at the group to slow down.
At the base of the climb to Leysin the group shatters, Carter falling back as the others surge up the hill. Volkswagens and Mercedes speed by on the narrow road, which twists along the mountainside like a bobsled track. Carter plods forward. He catches the others at the Leysin Subaru dealership and looks at his watch: They had run the marathon in three hours and eight minutes.
Carter can't quite recall what he thought about during the run. It's a safe bet, however, to assume Carter contemplated his decision to email Sutton several weeks earlier, asking if there was room on the TBB squad for a 31-year-old age grouper with an 8:44 Ironman time. Sutton responded with a very public rant on the TBB website, analyzing the pros and cons of admitting age-group triathletes into his ranks. He finished the post with a challenge.
"If you're listening, Brett, get your arse down to flight-centre and get a ticket to Geneva then go and quit your job," Sutton wrote. "If you're here within two weeks, you are getting your shot."
Carter had immediately resigned from his lifeguard job on Australia's Gold Coast, sold off his furniture and belongings and borrowed $5,000. He arrived in Leysin with his bicycle, a small bag of clothing and the understanding that Sutton was now in charge of his life.
"I told Sutto I'm ready to smash myself," Carter said. "I told him I know I can make it."
It's been five years since Chrissie Wellington's surprise first Kona victory vaulted Sutton's name into the lexicon of mainstream triathlon. He'd previously trained a dozen world champion triathletes, but almost overnight Sutton became known as the coach who'd molded an age grouper into the world's best in just nine months. Everyone wanted to know how he'd done it.
The popular narrative said Sutton simply made Wellington and his other athletes swim, bike and run more than everyone else. Stories of his grueling training camps in remote parts of Switzerland and the Philippines circled the endurance community. Sutton became synonymous with the Soviet-era method of coaching: He hurled the carton of eggs at the wall, and the one that didn't crack became Chrissie Wellington.
Looking out at a rainy July morning in Leysin, Sutton laughs at the rumors.
"Look, it's not some Gulag-type camp we run. Yes, we do outrageously hard sets, but we don't do them all the time," he said. "People saw someone like Chrissie and thought, 'That could be me, I just have to put in the work,' when really she's a phenomenon for any sport."
Sutton is 52 now, and his hair has thinned into a messy widow's peak. His scrunched face bears a lattice of deep creases, the result of a lifetime spent coaching outdoors on swimming pool decks, dog tracks and horse stables in Australia. He shrugs off the idea that he's discovered the holy grail to triathlon coaching. He says his method is simple: organize a training squad of talented, dedicated athletes, and then create an atmosphere where the athletes push each other toward otherworldly fitness.
"My ethos is to create an environment where winning becomes inevitable," Sutton said. "I'm more interested in making the environment work than having superstar athletes."
The explanation greatly oversimplifies Sutton's nuanced leadership. It would be easy for Sutton to simply send his athletes out on monster rides each day with the order to slaughter each other up every climb. Instead, he trains by specificity, and splits his 15 athletes into four or five different group workouts each day. Whether an athlete is punching his teammate into shape or resting on a recovery ride depends on Sutton's schedule.
Sutton does not share the schedule, nor does he negotiate sets with his athletes. The overriding rule of Team TBB is to follow Sutton's direction, no questions asked.
"He tells us, 'I want a team of morons' because he wants us to do what he tells us to do," said Stephen Bayliss, who has been with Sutton since 2007. "He says it as a joke, but really, there's no point being here if you don't trust him."
In a sport where elite athletes regularly seek advice from nutritionists, physiologists and multiple coaches, Sutton's my-way-or-the-highway attitude can feel tyrannical. He forbids most technical training tools like power meters. He guides through philosophical emails or private confrontations. The exchanges are always short and blunt. In interviews for this story, multiple former TBB athletes said they were partially turned away by Sutton's controlling style.
"The snap judgment Brett makes when he first meets you, it can be spot-on but it can also be off," said Brandon Marsh, who left Sutton after two years on Team TBB. "Whatever it is, that is the judgment he's always working with."
Sutton is unapologetic about his coaching techniques.
"People say I'm a control freak; they say I brainwash my athletes," he said. "They're right. I wash the shit right out of their heads."
Sutton's coaching touches all aspects of his athletes' lives, including their geography. His top athletes follow Sutton around the world, largely on their own dime. He has held his pre-Kona training camps on the Korean island of Jeju and on an abandoned U.S. Navy base in Subic Bay, in the Philippines. Leysin sits atop an Alpe d'Huez-style switchback climb, a two-hour drive from the nearest major city. But in these far-off locations, Sutton can coach his athletes in a bubble, devoid of outside influence.
"Why would I go to Boulder? There are 450 triathlon geniuses there, and none of them know what the hell they're talking about," Sutton said. "This is triathlon—wherever you go you'll have some four-hour short-course guy telling Mary Beth Ellis how she should run."