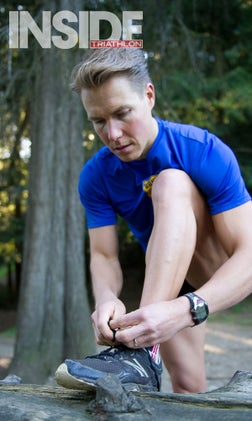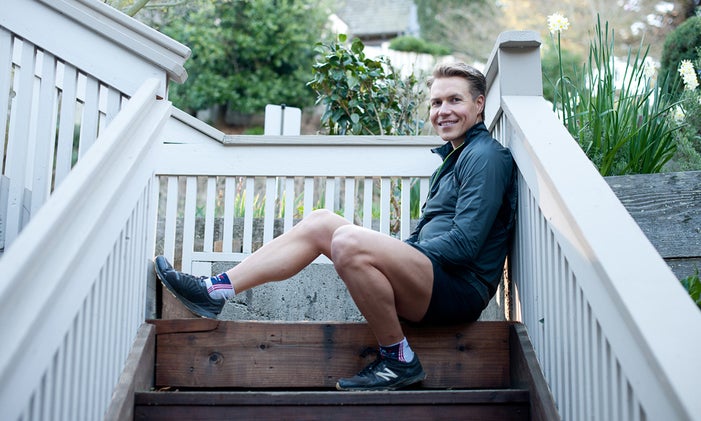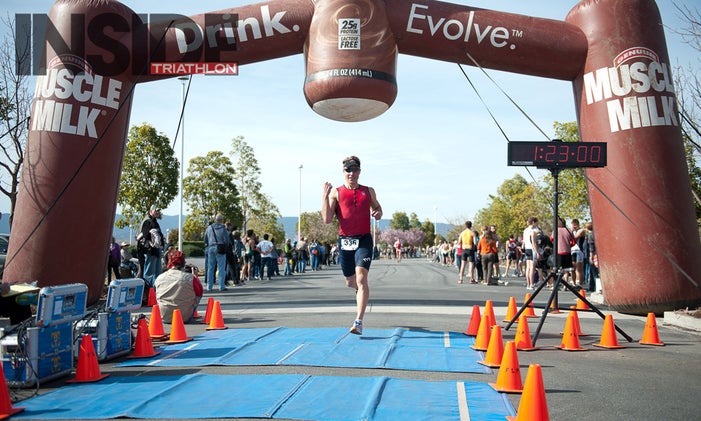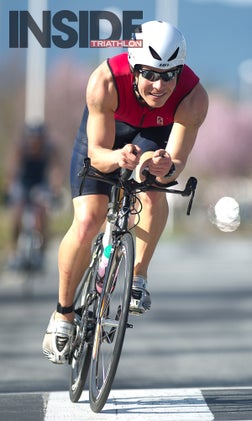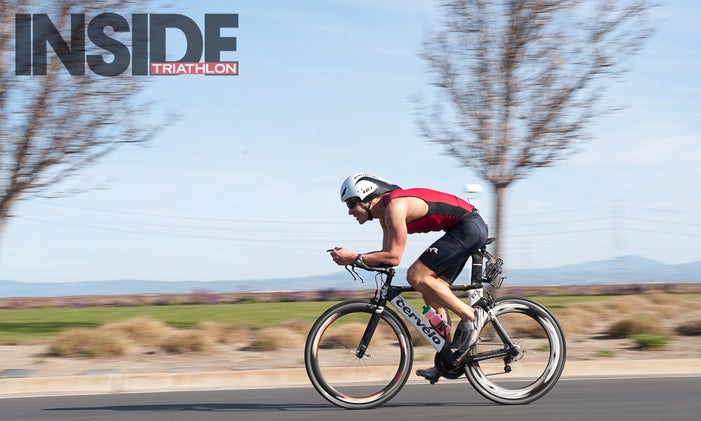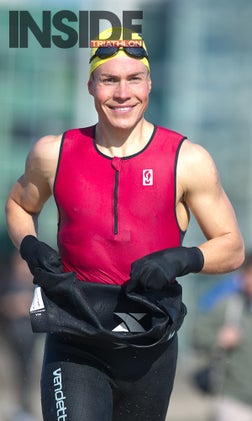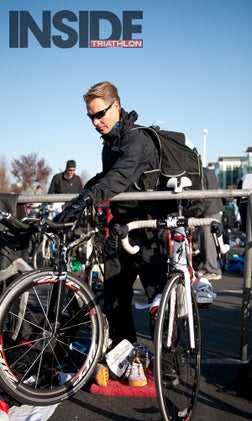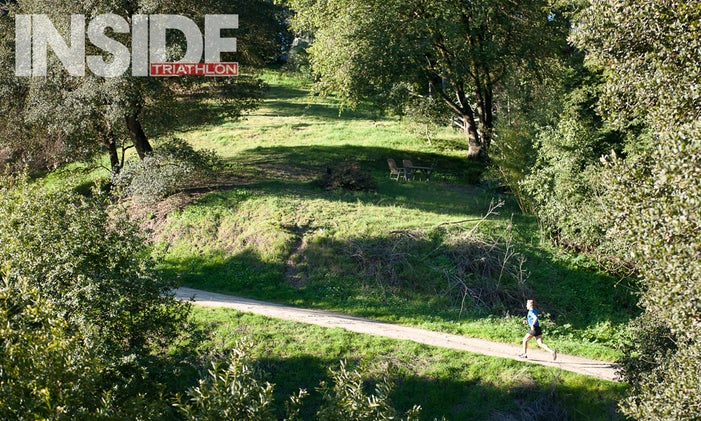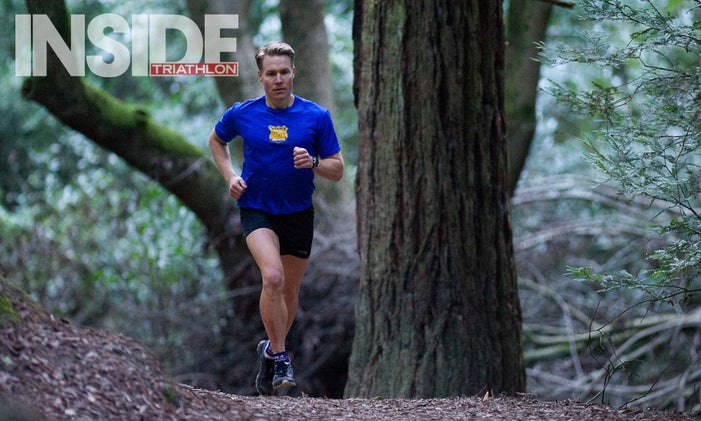 How serial entrepreneur Sami Inkinen went under nine hours in Kona on 12 hours of training per week.
This article originally appeared in the May/June 2012 issue of Inside Triathlon magazine.
We've been running for about an hour on the hilly redwood trails near the Bay Area's Piedmont Pines. We began in the darkness, when the temperature was still cool, but now that the sun has risen the air is baking under the forest's thick canopy, and my face is slick with sweat. We are running at a pace that is so fast, I tell myself to think of the workout as a race.
When I started the run, I wasn't expecting to be moving so swiftly, as my running partner, Sami Inkinen, 36, a Finnish age-group triathlete and serial entrepreneur, has only had 10 days to recover from an 8:58:59 performance at the Ironman World Championship in Kailua-Kona, Hawaii. I figured that his fatigue from this spectacular effort—he was second in the fiercely competitive 35-39 age group—combined with my status as a former collegiate and still decent runner, would produce a pace that I could stick with.
But I couldn't have been more wrong, and I can't hang anymore; the backside of Inkinen shrinks like a jet plane sailing toward the horizon. I reach a fork in the trail and have no idea which path to take, but I'm so tired I don't really care. I stop and wait for Inkinen to come back for me, as he promised he would after he finished his 5 x 2-minute mini-fartlek at Ironman race pace.
When he returns, he's grinning from ear to ear, and he later tells me that his runs in the forest, just steps away from the house he shares with his wife in Oakland, serve as his "meditation."
"I put this branch here for you to signal to take this path, but I guess it wasn't clear," said a laughing Inkinen, who, at a muscular 183 pounds, is built more like a Clydesdale than an elite triathlete.
I first decided to profile Inkinen because I had heard that while his busy work life only allowed him 12 hours per week to train, he was still producing the types of results you typically see from age groupers who treat triathlon more like a job than a hobby. When I went running with Inkinen last October, he was president of San Francisco-based real estate search company Trulia Inc., a rapidly growing company Inkinen founded with Pete Flint and that is funded by venture capital giants such as Sequoia Capital. In March, Inkinen announced that he would be stepping away from his day-to-day duties at Trulia to pursue other interests while still remaining an active board member.
Amid this hectic work schedule last year, Inkinen became the overall amateur champion at the Wildflower Long Course Triathlon, the overall amateur champion at Ironman 70.3 Hawaii, the 35-39 age group world champion at the Ironman World Championship 70.3 in Las Vegas, and placed second in his age group in Kona, a race he has qualified for every year since 2007, the year he got serious about triathlon.
How was it possible that he could conjure up such phenomenal results with so little training?
Over the course of the previous day, he had laid out his training philosophy for me—one influenced by Purplepatch Fitness coaching guru Matt Dixon and filled with lots of intensity, maniacal attention to detail and number crunching, and a fanatical insistence on recovery.
And while his philosophies were intriguing and could no doubt help any age-group triathlete—and perhaps even solve the problems of chronic fatigue, injury and general unhealthiness among front-of-the-pack age groupers—after witnessing Inkinen's monster engine firsthand on our trail run, I had the answer to my question.
The answer was yes, it is possible to go under nine hours in one of the toughest Ironmans on Earth, beating 23 pros in the process, off of 12 hours of training per week—if you are blessed with the genetics of Sami Inkinen.
***
It's a bit simplistic to finger talent alone as the reason for Inkinen's success as an age-group triathlete despite his demanding work life.
While always talented, Inkinen had never experienced the kinds of results he saw in 2011. Prior to last year, he hadn't placed higher than 11th at Kona in his age group, and he blew up there in 2010, finishing 95th in his age group.
So what changed?
In the words of Inkinen, it's been his newfound focus on recovery.
"What I've been super-conscious about this year is this idea that if I don't improve in almost every single workout, it's not because I haven't trained, but because I haven't rested," he told me over dinner the night before our run in the forest. "Literally, that's been my thinking."
In other words, he rejects the notion that you have to train through months of hard, exhausting workouts to improve.
Instead, he followed the principle that he should literally get stronger and faster every week, if not every day, and that his numbers should improve during every intense workout.
To help him reach this goal, in early 2011 he began tracking his recovery with a program called Restwise, which Dixon suggested, as it keeps tabs on your daily resting heart rate, body mass, sleep, oxygen saturation, hydration, appetite, muscle soreness, energy level, mood state, well-being and the previous day's performance.
Using these markers, Inkinen was better able to evaluate whether his body was ready for hard stimulus. If it wasn't, he would give himself at least another easy day before he attempted an intense workout.
"It's very eye-opening," said Inkinen, who uses Dixon as a sounding board but prefers to create his training schedule himself, as he enjoys the process and puzzle. "It sort of forces you to be like, 'Actually, I'm waking up this morning and my mood is not what it used to be. I'm a little grumpy. I'm not feeling right.' And you see the numbers and you're recovered 60 percent when it used to be 90. It's like, 'I think I'm not going to do this interval workout.'"
Dixon says that his athletes rely on Restwise as a tool, not a mandate.
"Sami doesn't use it and say, 'If I have a low score I don't train,'" said Dixon, who has been working with Inkinen since 2008. "But really what it is is a conversation starter, an ability for any athlete to check in with themselves, spend two minutes thinking, 'How do I actually feel today?' and looking at their score to say, 'Am I really recovered, and would I benefit from doing this workout?'"
Keeping track of recovery markers can be especially helpful for age-group triathletes like Inkinen—people who lead stressful lives but who often forget that stress is stress, whether it's from an 11-hour flight, an intense board meeting or a hard hill workout.
"There are two types of stress: training stress and non-training stress," Dixon said. "For a professional athlete, one of my 15 pros who I work with, they need to absolutely maximize training load while maintaining positive adaptations—so their physical performance is their limiter. For everyone else, they have to maximize their training load and integrate it within this massive, busy, non-training stress thing called life."
The Restwise data analysis dovetailed nicely with the triathlon-related number crunching Inkinen had already been doing since 2004, when he first began keeping a triathlon workout log of sorts on an Excel spreadsheet. Back then, Inkinen was working toward his MBA at Stanford University, and some of his classmates had convinced him to attempt the Wildflower Long Course Triathlon even though he could barely swim.
Today, Inkinen still uses this very same spreadsheet, logging data points such as how he feels, how many hours he slept, his morning heart rate, his weight, his caffeine intake, his caloric intake, and any workouts he has done and how they went. The spreadsheet also serves as a diary of sorts, and Inkinen says each day he writes down three things he's been grateful for in the previous 24 hours.
"Partially it's my diary as well. So, mainly it's around the workouts, but it's also stuff like, 'I got married today,' kind of thing," Inkinen said, laughing.
This focus on recovery is, in a sense, a focus on specificity—or the tenet that every workout should have a purpose, and that you shouldn't start a workout unless your body is ready to achieve that purpose.
When Inkinen first began working with Dixon, he was doing a lot of workouts at a steady, mediocre pace and little intensity—he was exercising more than he was working out and getting by at races on genetics alone.
What Dixon brought to the table was intensity and specificity, Inkinen says.
"Sami's genetically gifted, but he happens to be an athlete who responds really, really well to intensity," Dixon said. "We did more intensity, but it wasn't just blind intensity; it was also very specific. What I did was not just add intensity, but I added specificity to his training."
Instead of going out and riding around aimlessly for a few hours, Inkinen might do a workout on the trainer where he warms up for 20 minutes and then does 4 x 8 minutes or 5 x 8 minutes (depending on how he feels) where the eight minutes are broken up into two minutes at half-Ironman race pace, two minutes just above half-Ironman race pace, two minutes at, and then two minutes above, followed by a five-minute jog for a cool-down.
When Inkinen gets into the weeks leading up to an Ironman, he might do a workout where he warms up for 30 minutes and then rides for 20 minutes just under Ironman intensity, then 20 minutes just at Ironman intensity, and then 20 minutes just above Ironman intensity. (See chart on page 36 for a typical training week for Inkinen.)
Inkinen will tell you that he doesn't like to train to the point of exhaustion and instead finishes every ride or run with good form. He believes that training to exhaustion requires too much recovery, and he likes to be able to start another intense workout within 24 hours.