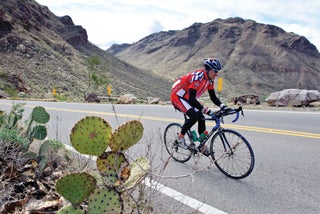 Goal setting is one of the defining characteristics that separates athletes from exercisers; we set our sights on specific targets and we strive for performance. As you get ready to put your 2012 goals down on paper (which I highly recommend), here are some guidelines to keep in mind. I've divided these goal-setting tips into categories based on three groups of triathletes I frequently talk to. You may fit squarely into one category or identify with more than one.
"I want to be a contender."
"I coulda' been a contenda," lamented Marlon Brando in "On the Waterfront." But he wasn't, because as a fighter he didn't have anyone looking out for him and he went for the easy buck instead of the long-term gain. If you want to step up your performance in 2012 and stand atop the podium, get yourself:
A coach. I know I'm biased, but during the natural ups and downs of the training process athletes benefit from external guidance. Coaching is not just a training program or data analysis; it's the relationship that guides you through the dark days, when fatigue causes self-doubt and insecurities to cloud your judgment.
Performance monitors. If you want to win, invest in a power meter for the bike and a GPS-enabled heart rate monitor for your other activities. Even more important: Download the data and use it. You'd be surprised at the number of athletes who have the gear but do nothing with the useful information it provides.
Speed. Endurance gets you to the finish line, but speed wins races. If you want to win you have to put your time into high-intensity speed work on the track, cycling intervals above lactate threshold intensity, and VO2max intervals in the pool.