Triathlons such as the Memorial Herman Ironman Texas have fueled business growth for TJ Fry and others.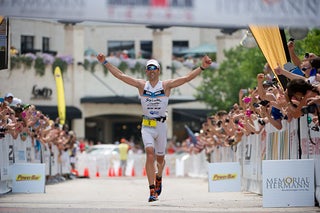 The popularity of triathlons has helped TJ Fry expand his company and given athletes the convenience of getting their gear for the intense races locally.
Fry, owner of Swim Shops of the Southwest, opened his fourth location in The Woodlands in September. Fry has locations in Spring, Humble and at the Conroe Independent School District Natatorium in Shenandoah.
"Triathlons are one of the fastest-growing sports in the adult world, and Ironman is leading that brand," Fry said. "So when you have a race like Ironman, that everyone knows, land in your back yard, it gets a lot of people interested in the sport; whether it is a bucket lister or someone that has been toying with the three sports and wants to put it all together."
While Fry said he opened his latest location during the slow season, he said traffic through the store is picking up every day as the CB&I Tri, slated for May 5, and the Memorial Herman Ironman Texas May 19 creep closer.
"We have seen a huge influx of people, not just locals, but we have a lot of people who are travelling from out of town to The Woodlands," Fry said. "They are driving in because they want to train on the course. They want to prepare because Ironman it is such a big day, such an excruciating event, and people don't like surprises."
Read more: Yourhoustonnews.com