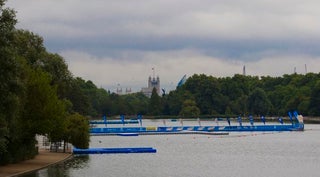 Key Facts
Sport: Triathlon, Marathon Swimming
Location: Hyde Park lies within London's West End, within easy walking distance of top class accommodation and shops.
New or existing: New
Permanent or temporary: Temporary
Number of events: 4
About Hyde Park
The largest of London's Royal Parks, Hyde Park has been open to the public since 1637.
The park is home to a number of grassroots sports clubs, including the Serpentine Swimming Club, whose members swim in the Serpentine Lake whatever the weather – even on Christmas Day.
Temporary seats will be built in June 2012 for spectators, and the course will be marked out.
During the Games
Hyde Park will host the Marathon Swimming and Triathlon events at London 2012.
The park is also expected to be home to the music, theatre, film and cultural events that will take place throughout the summer of 2012.
After the Games
The grandstand and course will be removed.