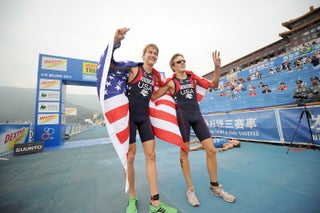 American Lukas Verzbicas is skipping the U23 circuit in hopes of earning an Olympic spot.
The 2012 ITU season officially gets underway this weekend, with the best of the Americas heading to Argentina for the 2012 LA Paz PATCO Triathlon Pan American Championships. La Paz has hosted a Pan American Cup event each year since 2003 and two South American Championships, but this is the first time the city will host a continental championship event.
The USA's men's medal hopes will be led by Pan Am Games silver medalist Manuel Huerta, who won a Pan American Cup at the same venue in 2008, Mark Fretta, Kevin Collington and Barrett Brandon. But expect plenty of the focus to fall on rising star Lukas Verzbicas, who is on the start list for his elite debut.
Verzbicas has claimed plenty of headlines in the past six months, first for winning the 2011 ITU Junior Men's world title race – which he dedicated to friend and teammate Kevin McDowell. Verzbicas then took up an athletics scholarship in Oregon, before switching back to triathlon. Last week, seven-time Tour de France winner Lance Armstrong tweeted the teenager 'Happy Birthday'. He's equipped with a killer run; he's broken a four-minute mile on the track and it will be intriguing to see how he fares in his elite debut.