Xterra world champion Lesley Paterson was plagued with fear of failure before finding success in the sport.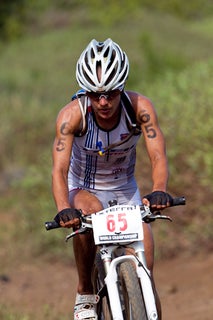 When Lesley Paterson was four she would imagine she was Zola Budd and having gone on to become a world ­champion, she has proved dreams can come true.
She is the best in the world at Xterra, an extreme triathlon, which includes a 1.5km swim in the ocean, 30km mountain biking and 11km trail run.
She is also a coach, an actress and film producer.
The journey to be such an ­all-round success has been hard and she has been plagued by such terrible ­self-doubt she feared it would crush her. But when Lesley, 31, falls she just picks herself back up.
She was always a tomboy and was never drawn to traditional female sports.
She grew up in Stirling and played rugby in a boys' team from the age of seven.
"I was always really sporty as a kid. I remember watching Zola Budd when I was four and I used to practise in a nearby field, running around barefoot in the grass," said Lesley.
RELATED PHOTOS: Lesley Paterson
She played for Stirling County Rugby Club until she was 12 – the only girl in ­Scotland playing rugby, and with 250 boys in the club.
"The boys either wanted to tackle me extra hard or were too scared to come near."
Her father Alistair was sporty and got her into fell running when she gave up rugby.
She said: "I always loved to do anything that was muddy, gritty and adventurous. I loved the scenery, they were some of my best times. It is a very primal thing when you are running over the Scottish hills."
When Alistair helped found the Stirling Triathlon Club, he roped in his daughter.
Read more: Dailyrecord.co.uk