Professional triathletes go one-two in the women's race at the 3M Half Marathon in Austin, Texas.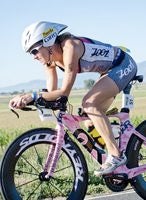 Austin's Kelly Williamson passed up Jess Barton of Amonate, Va., to take first in 1:14:42. Barton, who's been training in Boulder, Colo., was second in 1:15:53, while Austin's Chris Kimbrough took third in 1:16:20.
"I'm ecstatic, because my fastest half marathon time before today was 1:17," said Williamson, who earned $1,500 for her victory Sunday, as did Rantall.
Barton set a 5:40 pace from the start, while Williamson was content to hang back, running with Kimbrough. At about the halfway mark, though, Williamson seized the lead and never gave it back.
"I kept her in sight, maybe about 10 seconds ahead," Barton said, "but then the downhills took their toll on my quads, and that was it."
Said Williamson, who will compete in the Ironman 70.3 Triathlon in Panama in two weeks: "I tried not to worry about her running right behind me. I just wanted to run my race and my pace. I knew I had a pretty good lead by mile 10, so at that point, I was mainly shooting for a fast time."
Read more: Statesman.com