Ironman CEO Andrew Messick and ITU President Marisol Casado meet to discuss future endeavors.
See the news release from Ironman.com below: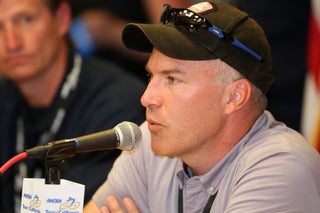 Recent meetings between World Triathlon Corporation (WTC) Chief Executive Officer, Andrew Messick, and International Triathlon Union (ITU) President, Marisol Casado, have opened the door to the possibility that the Ironman organization might "in future organize the ITU's own long-distance world championships on its behalf," according to a release distributed by the ITU today.
Discussions were also held about bringing the two organizations rules in line and working on joint projects to develop the sport in new countries. A further technical meeting to discuss the issues is slated to take place in the next month in San Diego, Calif.
The meetings mark a major turnaround in the relations between the two organizations – this was the first time Messick and Casado had met since Messick became WTC CEO six months ago. Referring to past confrontations between the ITU and WTC, Casado said that those issues were in "the past: when we sit together, we don't see any problems to work together," and described her meeting with Messick as "very pleasant."
The two also downplayed any apparent conflict between the WTC's 5150 series, announced last year, and the ITU's World Triathlon Series (formerly the Dextro Energy Triathlon World Championship series).
"We look forward to growing the relationship with ITU and working together to further the sport of triathlon," Messick said after the meetings. "We're determined to continue these discussions and come up with some joint strategies to improve our sport."