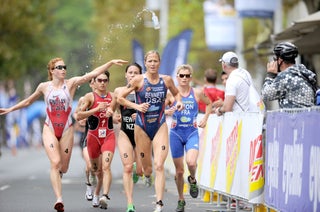 Gwen Jorgensen and Sarah Groff became the first two American Olympic qualifiers in triathlon this past August by finishing second and seventh, respectively, at the ITU's Dextro Energy World Championship Series race in London.
With Jorgensen and Groff qualifying, there's one Olympic spot left for the women and at most three spots left for the men. So how exactly will the other spots be filled?
Jorgensen and Groff qualified under USA Triathlon's revamped Olympic qualification system—one set to ensure that whoever qualifies is either a legitimate medal contender, or someone who can help a medal contender earn gold, silver or bronze.
To qualify, Jorgensen and Groff had to be the top two Americans in London—and they had to finish in the top nine. That was a big proviso, because finishing in the top nine at a WCS event, especially London, is no easy feat. Almost every country was using London as an Olympic qualifier, meaning literally everyone who was anyone was competing at that race. It was probably more competitive than the Olympics will be, as countries could enter more than three athletes in the race, whereas at the Olympics, countries can at most qualify three athletes. (Think Great Britain, which, during the London men's race, had Alistair Brownlee, Jonathan Brownlee, Tim Don, Will Clarke and Stuart Hayes all battling it out for Olympics spots.)
As far as the women are concerned, the second and final race that an athlete can use to qualify for the Olympics is the World Triathlon Series (formally called the World Championship Series) race in San Diego this May. If an American woman finishes in the top nine—again, a big proviso—and is the first American across the line who has not already qualified, then she automatically qualifies for the Olympics.
If no one finishes in the top nine, then USAT has the right to select whoever they want—something that has never happened before in the history of USAT's Olympic qualification systems.
USAT could decide to choose a domestique—someone who would help ensure that Groff and Jorgensen are in a position to win a medal at the end of the bike, as both Groff and Jorgensen are capable of running their way on to the podium.
But USAT could also decide to select someone they deem a medal contender in her own right, such as Laura Bennett, who had a disappointing race in London but who placed fourth at the 2008 Beijing Olympics and who, except for London, didn't place outside of the top eight at a World Championship Series race in 2011 and finished ranked eighth overall in the series.
As far as the men are concerned, given that no American man placed in the top nine at London, all Olympic slots are up for grabs. Unfortunately, there is still a very real possibility that the American men will only get two Olympic spots in 2012.
RELATED PHOTOS: American Olympic Hopefuls
Country slots—the number of athletes a country can send to the Olympics—are determined via a complicated ITU points system. As of this writing, the American men only have two Olympic spots, earned by Jarrod Shoemaker and Matt Chrabot. The American men have until late May to pick up that third spot, but it'll be up to either Manny Huerta or Hunter Kemper to do this, as a triathlete can only secure one country spot for his country, no matter his results, and everyone other than Huerta and Kemper is too far down on the points list to have a legitimate shot.
It'll take some significant work by Huerta or Kemper, who is recovering from recent elbow surgery after crashing on his bike in October at a race in Myrtle Beach, S.C., to nab that third country spot, but it is still possible. These two men are going to have to perform well and hope that at least one other country who now has 3 spots underperforms.
As far as qualifying for the Olympics is concerned, when the American men race at the World Triathlon Series race in San Diego in May, a variety of scenarios can unfold. If two men are in the top nine, then those two men automatically qualify for the Olympics—and the third spot, if the men have one, will go to a discretionary selection.
If no one is in the top nine and the American men have three Olympic spots, then the first spot on the team will go to a discretionary selection, and the next two spots will be filled via a roll down selection, with the top two American men at the Trials event qualifying, regardless of their overall places.
If no one is in the top nine and the American men only have two Olympic spots, then the spots will go to a discretionary selection, then the first American, regardless of place.
Bottom line: It's likely that USA Triathlon will be making a discretionary selection on the men's side. Now it's up to them whether or not they will select a medal contender who hasn't managed to yet automatically qualify, or a domestique.
RELATED VIDEO – Training Log: American Olympic Hopeful Matt Chrabot