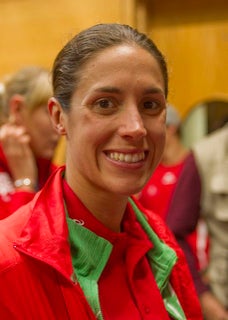 Great Britain's Helen Jenkins, who is training in the Canary Islands, blogs about how she's feeling with the Olympic games six months away.
The Olympic opening ceremony is six months away today. After all the years of talking about London 2012, it now seems incredibly close.
Yet, when I look at it in terms of my training plan, the weeks of competitions, it still seems there is a lot more work ahead – a lot more miles to cover on the bike, a lot more running, a lot more swimming.
Like all the 550-odd British athletes hoping to be in London, this is not a glamorous time of the year but a very important one of which the public is probably not very aware.
Out of sight and mind and before the competitive season starts in the spring, this is when we put in a lot of the work building up our core strength with the aim of peaking on that special day, which for me is the women's triathlon on August 4.
As far as I am concerned, life stops after that – I have not thought about what I will be doing after that day in Hyde Park, except maybe cheering on the GB men in their triathlon three days later.
I have just arrived in Lanzarote for three weeks' warm-weather training. The British squad were here before Christmas and I have come out for more work with my husband, Marc, who is my coach, and also here is one of our top men, Jonny Brownlee.
Read more: Express.co.uk