Aerobar And Aerobar Fit
The 3T Aduro aerobar, a completely new bar with an integrated 9cm stem, comes stock on the P5. It attaches to the bike using a standard 1 1/8-inch steerer tube. An advantage of this traditional system is that the rider can opt to use any other bar.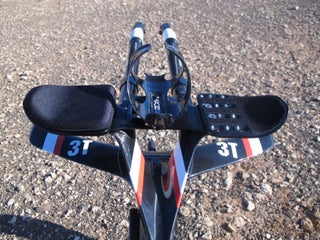 The Aduro can be set up in three stack height configurations. Cervélo calls them X-Lo, Low and High V. Combined they create 11.5cm of total stack adjustment for each of the six frame sizes with the aero-shaped spacers that can be used to elevate the bars. These spacers are available in 5mm and 10mm heights. All three configurations use the same basebar.
In the X-Lo position, the bar is flipped upside down. This limits the pad fore-aft position to one fixed spot, eliminating all pad reach adjustment.
The low position keeps the basebar in its upright orientation and the pads can be set to three different fore-aft positions. The total reach range is 50mm from the forward-most setting to the furthest rearward.
The High-V setup has the same reach adjustment as the Low setting. It uses a carbon V-shaped spacer to elevate the bars 5cm farther above the basebar.
The brake grip position is identical for all three configurations and cannot be adjusted. The basebar's straight brake grips are 40cm wide, center to center. The grips do not tip upward, so riders who are accustomed to upturned brake grips might feel initially unsecure on the grips. With a few rides, that perception goes away. The High V spacer used to elevate the pads to their tallest extreme doesn't elevate the basebar, creating a more extreme drop from the aero position to the braking position.
Cervélo's front-end system with the Aduro aerobar offers an enormous range of stack adjustment, but arm pad reach adjustment is limited to the three pad positions on the aerobar. This will be a limitation that may force some riders to switch aerobars to fit the P5. Despite the restricted range of adjustment, we found the pads to be supremely comfortable if they fit the rider's position. They are long enough to minimize pressure on the arm and angled perfectly to guide the forearm to the extensions.
S-bend aerobar extensions are stock equipment with the P5, and these extensions limit reach adjustment of the handgrip position. The Aduro uses a collet system to clamp the extensions. They plug into a mini extension from the basebar and a piece twists downward to attach the basebar and extension. The S-bend's curve runs into the collet at a reach distance of 32cm from the rear of the pads in the forward-most position to the tip of the extensions. Swapping the S-bends for ski-tip bars or flat bars will increase fit range by allowing the extensions to come back much farther toward the rider.