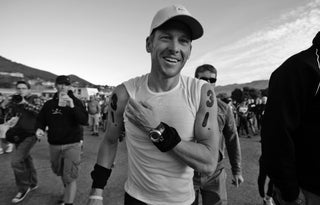 Before he was a bicycling legend or a high-profile cancer crusader, Lance Armstrong was one hell of a triathlete. A pro at 16, he was a top-ranked junior for a few years before he became singularly focused on the bike. More than two decades later, Armstrong, now 40, recently returned to his multisport roots, finishing fifth at the 2011 Xterra National Championship, an impressive re-debut in a field of international world-class talent. Armstrong granted exclusive access to Triathlete and sports photographer Elizabeth Kreutz on race day, allowing us a rare glimpse into his much anticipated triathlon homecoming. This feature originally appeared in the December 2011 issue of Triathlete.
Triathlete: Now that you've had some time to reflect on the Xterra race, what are your impressions of the whole experience—your first race after more than 20 years?
Lance Armstrong: It was a lot harder than I expected. The effort was much more intense than what I thought it would be, which is partly due to the lack of intensity I had done in my training. And the altitude made it that much harder—but that was true for everyone racing. The most intense thing I did in training was swim with a group. Other than that I'd ride with some buddies, and the running has been sporadic because of my plantar fasciitis.
Triathlete: Why Xterra?
Armstrong: I spend a lot of time with [former pro and 1996 Xterra world champion] Jimmy Riccitello. We had always talked about doing an Xterra at some point, and I just thought that it was a logical place to go. I spent the summer at our house in Colorado and have been doing a lot more mountain biking than road riding so that was another factor. And generally at Xterra the emphasis is more on the bike.
Triathlete: Was there any sense of familiarity—things like going through a transition again—when you raced? Or was it a completely new and different experience?
Armstrong: I was shocked [laughing]. It was as if I had never done it before.
Triathlete: In terms of your expectations for results or winning the race, you said before the race that you just wanted to have fun, compete well and get back into it. Jimmy also said that he's known you since you were 16 and you've always been fiercely competitive, so how do you temper that competitive drive with realistic expectations given all that you have going on in your life?
Armstrong: It's fine to be competitive, which I am—most people know that—but at the same time I have to be a realist. I knew full well that I had had a crazy few weeks before [the race], a lot of travel, a lot of flights and hotel rooms, a lot of events and commitments that were time-consuming. The weekend before was my birthday, which was not very time-consuming but was not very healthy. I was in rare form. And the stuff in New York after that [speaking at the UN Social Good Summit, meeting with Mayor Bloomberg and work for Livestrong] was not the ideal recovery from the birthday weekend. These are all just bad excuses but they're reality. The bottom line is I expected to be competitive in the sense that I have those nerves and those feelings but I'm realistic enough to know that I didn't have the proper preparation to win.
PHOTOS: Exclusive Photos Of Lance Armstrong's Return To Tri
Triathlete: You did a 21:55 swim—only a few guys went faster. Did the swim go as you had hoped?
Armstrong: I started with who I thought would be the fastest group. To me the swim was not fast enough. It was on the easy side and we didn't put enough distance on the guys that maybe would struggle a little on the swim. It was nerve-racking and a little trickier at the end because we started catching people in the wave behind us. We were trying to pick our way through lapped swimmers.
Triathlete: There's been lots of talk about the Tyr Freak of Nature wetsuit you wore. First, news about the $1,200 price tag, and then we saw you wearing it on race day. How was it?
Armstrong: Now they've got it marked down to $200? [Laughing] I am as anti-wetsuit as they come. … They're way too advantageous to poor swimmers. It's not a fair aid. It would be like if people on the bike that aren't that strong could use disc wheels and people who are strong can use triple cross wheels that are slower. I don't get it. Professional athletes should not need flotation devices to swim. Having said that, that water was cold! So that was a different story. This particular suit was far and away the best that I had tried. It felt the most natural.
Triathlete: On the bike, did you feel pressure to chase down the leaders from the get-go or were you committed to sticking to your own plan?
Armstrong: When I caught the Australian guy [Ben Allen] I thought that was it. Conrad [Stoltz] and I got onto the singletrack and he asked a group of spectators, 'How far down are we?' and I thought to myself, 'Shit, I thought this was it, I thought it was just you and me!' I yelled up to him, 'What do you mean? Who's up there?' and he said [Dan] Hugo. I didn't even know he had gotten out in front of us. I wasn't that aware of what was going on in the race—other than the fact that I was suffering.