Waukesha, Wisc. native Gwen Jorgensen earned herself a spot in the 2012 Summer Olympic Games in London. Her friends and co-workers in Wisconsin want to make sure this adventure goes off without a hitch.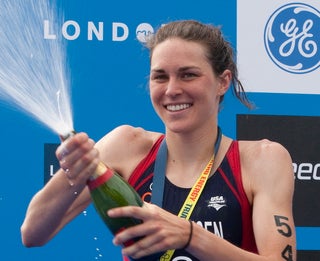 Be it swimming, running, or biking Gwen Jorgensen has what it takes to be an Olympian. The triathlete is now ranked 11th in the world and has the opportunity of a lifetime.
"It's kind of crazy to think about, and it's exciting. I just try to go into every race and have fun, and I'm just blessed with incredible support," Jorgensen told Today's TMJ4.
My Favorite Things: Gwen Jorgensen
That support comes from family and her co-workers. She balances strenuous practice with a job as a tax accountant. Her bosses hosted a fundraiser to help with the costs associated with being a full-time athlete.
Mark Hellmer is a Senior Manager at Ernst & Young, LLP and he said, "We kind of put something together to both help her family get over to the games, as well as allowing her spending money and other things that she'll need."
Read more: Todaystmj4.com