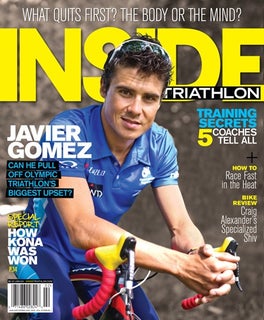 Looking to improve your triathlon performance in 2012? Look no further than Inside Triathlon magazine's January/February issue, which features in-depth interviews with five of the sport's most successful coaches. They share their training secrets and invaluable information on consistency, tapering, strength training, mental training and a multitude of other topics.
But the training tips don't stop there. There's plenty to learn from October's Ironman World Championship: In this issue you'll find an analysis of power data from two pros at Kona, a breakdown of Craig Alexander's race-winning Specialized Shiv and gear choices and a feature written straight from the Kona med tent that will help you avoid the med tent and learn to race better in the heat. You'll also enjoy learning from our feature on six-time Ironman world champion Dave Scott, whose mental toughness has been the secret to his success, a secret that can perhaps be trained.
With such an epic set of races at the Ironman World Championship, we've also brought you a special report from the Big Island as well as stunning photography from the historic day.
And as part of Inside Triathlon's lead-in to the 2012 London Olympics, you'll find the cover feature on Spain's Javier Gomez, one of the winningest short-course triathletes in history. The profile of the two-time ITU champion, who's coming into an Olympic year in the shadow of British sibling phenoms Alistair and Jonathan Brownlee, will make you even more keen to follow the battle on the Olympic stage come August.
Pick up the January/February issue of Inside Triathlon magazine on newsstands today. Also, follow Inside Triathlon on Twitter and Facebook.