The United States' Jordan Rapp and Great Britain's Rachel Joyce took wins at today's ITU Long Distance World Championships. The race took on a bike/run format after the swim was cancelled due to frigid conditions at Lake Las Vegas.
ITU released the following statement about the decision to cancel the swim: "Cold air temperature combined with the 17 degree (Celsius) water temperature put the swim course outside of ITU regulations and was not deemed safe for the athletes. Additionally, heavy rains in the lead-up to the race caused flooding and ITU officials were not able to confirm the quality of the water was within ITU rules…"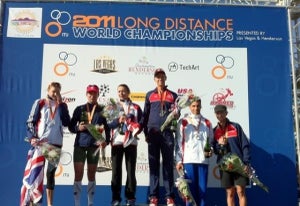 In the men's race, Denmark's Martin Jensen posted the fastest bike split of the day, going 3:03:33 over the 120km bike course. The next fastest times were posted by France's Sylvain Sudrie (3:09:13), Australia's Joe Gambles (3:09:17) and Rapp (3:09:20). Jensen faded on the 30km run course, while Gambles and Rapp excelled. Rapp's run time of 1:49:31 gave him the world championship title in 5:00:15. Gambles cruised in for second at 5:02:57, with Sudrie earning third.
For the women, Caroline Steffen posted the fastest bike split (3:29:40), but she failed to finish the run. Australia's Nikki Butterfield, a former pro cyclist, had the second best time on the Nevada bike course (3:31:13), with Joyce starting the run with the third best time. The two Brits, Joyce and Cave, excelled on the run. Joyce had the slight edge over Cave, taking the win in 5:34:15. Cave finished second in 5:37:35, with American Meredith Kessler posting a well-rounded day to take the bronze position.
ITU Long Distance World Championships
Henderson, Nev. – Nov. 5, 2011
120K bike, 30K run
Men
1. Jordan Rapp (USA) 5:00:15
2. Joe Gambles (AUS) 5:02:57
3. Sylvain Sudrie (FRA) 5:03:23
4. Martin Jensen (DEN) 5:05:23
5. Nicholas Thompson (USA) 5:11:38
Click here for complete men's results.
Women
1. Rachel Joyce (GBR) 5:34:15
2. Leanda Cave (GBR) 5:37:35
3. Meredith Kessler (USA) 5:40:45
4. Nikki Butterfield (AUS) 5:44:34
5. Malaika Homo (USA) 5:46:37