Great Britain's Leanda Cave will look to continue her late-season success this weekend at Ironman Arizona in Tempe.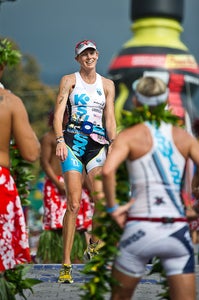 Leanda Cave is racing with nothing to lose at Ford Ironman Arizona on Sunday, but much to gain.
The 33-year-old Tucson resident already has a third-place finish in the bank, at the Ironman World Championship in Kailua-Kona, Hawaii.
Since that career achievement Oct. 8, she repeated as Ironman 70.3 Miami champion Oct. 30 and was runner-up Nov. 5 at the ITU Long Distance World Championships, shortened to a duathlon because it was too cold in Henderson, Nev., for the swim.
"It's so hard mentally" to continue racing late in the year, Cave said. "I put myself through some pretty low times with the training leading up to Kona, places that really hurt. I don't want to waste that. I didn't put myself through all that for nothing. I always want to maximize everything I can after Kona."
So Cave will test herself yet again in Tempe, seeking her first victory at Ironman distance (2.4-mile swim, 112-mile bike, 26.2-mile run) and trying to reach a personal goal of a sub-three hour marathon at the end of the Ironman.
Read more: Azcentral.com