Canada's Paula Findlay talks about being selected by Triathlon Canada to represent the country in triathlon at the 2012 London Olympics.

Triathlon Canada used discretionary selections to nominate both Findlay, 22, and the 36-year-old Whitfield, who won gold at the first Olympic triathlon at Sydney in 2000 and silver in 2008 at Beijing.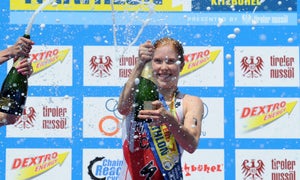 "We believe early selection will allow her to focus on maintaining her health while properly preparing to compete at her best in London, without chasing standards over the next seven months," Alan Trivett, Triathlon Canada executive director, said in a news release.
It was welcome news to Findlay, who was told earlier this week.
"It takes away a lot of the early season pressure to be on the top of your game right in April, because that's only four months out (from) the Olympics," Findlay said. "It's hard for those people who still have to get their team spot.
"Lots of countries have spots they have to fill and those athletes are going to have to train hard in the winter. So, it will be a different approach now that we have the spot for sure."
Findlay said the rest and the break from full-bore training has done the world of good for her physical health, as well.
"We're building the training back up again," said Findlay, who just returned from a visit to the NIKE world headquarters in Portland, Ore.
"I'm doing lots of sponsor trips right now, so it's hard to be 100-per-cent consistent (in training) at home in Victoria, but this is the time to do those things.
Read more: Edmontonjournal.com