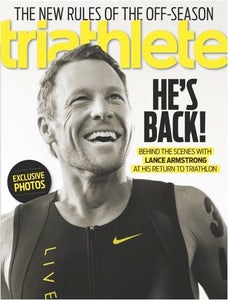 Lance Armstrong is back in triathlon, and in our December issue of Triathlete we chronicle his return with exclusive access to him on race day. Go behind the scenes and see how he prepared for the Xterra USA Championships, along with his thoughts on racing and triathlon in Editor-in-Chief Julia Beeson Polloreno's Q&A with him following his fifth-place finish.
RELATED PHOTOS: Lance Armstrong's Return To Triathlon
We also take all the guesswork out of the holidays this year with our annual gift guide. Our cool finds will suit any type of triathlete, from gear junkies to pro groupies, and plenty of great stocking stuffers.
And head into winter with a solid plan for 2012. Want to prep your body and mind for a stellar year? Follow our New Off-season Rules to start the new season faster, stronger and tougher.
Plus: all the monthly training tips, product reviews, health advice and nutrition knowledge.
The issue hits newsstands Nov. 8.
Also, put Dec. 6 on your calendar. That's the date our January issue, featuring special Kona content, hits newsstands!
Click here to subscribe to Triathlete magazine. Follow Triathlete on Twitter and Facebook!