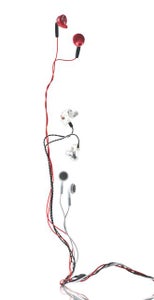 Take your tunes on the road with one of these three earphone sets.
Yurbuds Ironman Series Earphones
$49.99, Yurbuds.com
Basic earbuds with a soft plastic earpiece
Sound quality: Yurbuds wrap around the earbuds and block some external noise. This small degree of noise isolation lifts their sound quality above Apple's, but the sound is still a bit flat.
Road awareness: The noise isolation reduces road awareness slightly, but you can still hear an approaching car.
Ear grip: The Yurbuds firmly lock the earphones into place. They never dislodged or wiggled during our test.
Bonus feature: The Yurbuds help protect earbuds from the elements.