There's a plethora of paddles on the market, each with a different purpose. Here are a few.
Strokemakers Paddles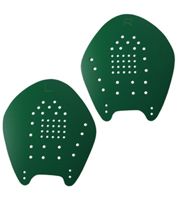 Purpose: Build swim-specific strength and improve your feel for the water.
Review: Strokemakers was the original, and the basic design still gets the job done.
Sizing: 7 options. Start with ones slightly larger than your hand.
Buy them: $14-20, Swimoutlet.com

RELATED – Coach Debate: How Often Should Swim Tools Be Used?