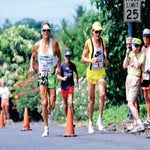 By Barry Siff
I'm not normally one for hyperbole. But, I am totally comfortable with Matt Fitzgerald's subtitle of his new book: "The Greatest Race Ever Run." I can unabashedly (and proudly) admit I have watched that race at least 30 or 40 times while spinning on my Computrainer during those cold, dark days of winter. Somehow, watching Mark and Dave—The Grip and The Man—battle for an entire day on the Lava fields … well, it just makes things a lot warmer, brighter, and inspiring.
Fitzgerald's book captures all of it, and more. I couldn't quite imagine how an entire book, looking at one race, could fill nearly 300 pages; yet, by going deep into the details of the race itself, the two legends' careers and lives leading up to that amazing day in 1989, plus a little "extraneous" scientific tidbits (chapters) on endurance and training,  this is accomplished. I certainly recognize it is somewhat of a weak cliche; but, I would simply say: For any triathlete or endurance athlete, or anyone who wonders what it takes to be the best in sport, "Iron War" is an excellent read.
For those of you who are relatively new to the sport, or who are too young to remember or know, "Iron War" refers to the epic battle between the then six-time winner of the Hawaii Ironman World Championship, Dave "The Man" Scott and—the winningest triathlete in the world at the time—Mark "The Grip" Allen, who had been unsuccessful in Hawaii six times prior. For 2.4 miles, Allen swam on Scott's feet. For 112 miles, Allen biked in Scott's (legal) draft.  And, for 24 miles of the marathon, The Man and The Grip ran side-by-side at an unheard of 6-minute pace.
Fitzgerald takes you all the way back to the hero's childhoods and forward. While I certainly knew pretty much every aspect of the race, itself, learning about how each athlete developed over the years to be who they are is truly fascinating. The contrast is quite clear. Scott, growing up with a father, who would later go on to help form "Tri-Fed," now USA Triathlon, and was in the first class of inductees into the USAT Hall of Fame. Allen, growing up in extremely poor conditions, with marginal family support, and an early childhood mental defeatist attitude.
"I describe Dave as a good old-fashioned jock of the no-pain, no-gain school. Mark is a deeply spiritual person who overcame self-doubt through introspection and internal exploration," [Fitzgerald] told me, following publication of the book. While I limited him to 30 words or less to contrast the two, the book certainly shows the depth of both men, and their incredible focus and determination. When asked for his motivation to write the book, Fitzgerald explains: "You know, they just don't make 'em like Dave Scott and Mark Allen anymore. These guys are larger than life in a way that no triathlete may ever be again. I wanted to write a story that made people feel the same sense of marvel that I felt for who they are and what they achieved."
Is the book perfect? No. Beyond a strict focus on the race and the warriors involved, Fitzgerald includes a few sections of the book more laden with "semi-technical info" on such things as running form and pain management, with very loose relevant ties to the core of the book. Not only are these parts somewhat irrelevant in scope, they are highly arguable. I would have left this stuff out.
The biggest issue is Dave and Mark did not work with the author on the book. I'm sure that would have added some to the story; however, in looking through the over 25 pages of references and sources for the book's content, Fitzgerald certainly did a major job of project research. Are there inaccuracies, perhaps? Yes. In speaking with Mark, he can rattle off many; and, I'm sure Dave can, as well.
However, all and all, readers will come away with a very strong understanding and appreciation for two of the true legends of our sport – The Man, Dave Scott; and, The Grip, Mark Allen – as well as a very clear look at "the greatest race ever run."
Barry Siff lives, trains, and works in Boulder, CO, with his wife, Jodee, and dog, Jackpot.  He is a member of the Timex Multisport Team, and PowerBar's Team Elite.