The conditions on the Big Island of Hawaii are unpredictable, but heat and humidity are constant. Every athlete dials his/her own setup to keep themselves hydrated and fueled in Kona's demanding climate. Here's a look at how many of the top athletes tried to keep themselves fueled on the Queek K.
– Two-time champ Craig Alexander uses a horizontal bottle between the aerobar extensions, a single bottle under his saddle and the Fuelselage bladder integrated into his new bike, the 2012 Specialized Shiv. He also has a Salt Stick electrolyte tablet dispenser mounted to his aerobars.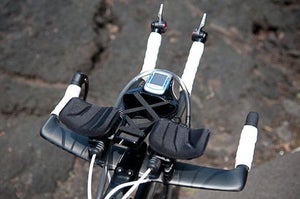 – Rasmus Henning has a one-of-a-kind storage unit that hangs between his aerobar extensions. He will use it to carry his solid nutrition and his Garmin 500 head unit that he uses to monitor his power. He uses the Fuelselage integrated bladder, a bottle on his seattube and carries another two bottles behind his saddle on a Minoura mount.
– Marino Vanhoenacker used a Profile Design aerobottle between his extensions and a round bottle on his seat tube. The 7:45 Ironman has a pretty simple setup.
– Julie Dibens also has a round bottle on her seat tube and one under her saddle. She has a Bontrager aerobottle mounted to a bracket that lifts the bottle between her forearms.
– Dirk Bockel used a TorHans Aero 30 drink bottle between his arms and positioned it in the upper notch on the mounting bracket. He also had a bottle cage zip-tied under his saddle. He covered the cage with rough tape to help secure the bottle to the bike.
– Andy Potts rode with Speedfil's new A2 horizontal bottle mounted between his forearms. It is a fixed bottle with a port for refill and a straw for the athlete to drink from.
– Tim O'Donnell raced with one round bottle cage on his down tube and another between his forearms. He also used a two-bottle Profile Design rear mount.
– TJ Tollakson had a insulated bottle fixed between his forearms, which are positioned about 45 degrees above horizontal, with a straw sticking out for Tollakson to drink from. He has three different refillable small gel bottles mounted to the fixed bottle.
– Mirinda Carfrae had six Gu gels mounted to her top tube and base bar. She also has a Profile Design Aerodrink between her aero extensions.
Learn more about the pros' setups by clicking on the thumbnails below.