Despite the fact that Kona's average high temperature on race day is only 84 degrees according to Weather Underground, the Big Island's rare combination of humidity and wind in addition to the high temperatures puts an amazing amount of nutritional stress on the racers to stay hydrated. Dirk Bockel turned in an 8th place finish in 2010 despite serving a blocking penalty on the bike, and this is how the ITU racer turned Ironman stud kept himself fueled from the swim start at Dig Me Beach to finish line on Ali'i Drive.
By Dirk Bockel as told to Aaron Hersh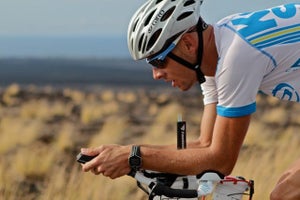 The last days before the race I was loading up on lot of salt and made sure the hydration was good enough but not flushing everything out of my body, so I used some electrolytes in all of my drinks prior to race day.
On the race day I had my usual breakfast three hours before the race. I had a good cup of coffee, a plain bagel and a banana. 1.5 hours before the race I had another bar, which I really had to shove down as I wasn't hungry at all, but I knew I needed it. The last two hours before the race I drank my SIS energy drink, but stopped taking sports drink the last half hour prior to the race. Shortly before the start I used water to clean the tank.
PHOTOS: Dirk Bockel On The Queen K
After a good swim I planed to have a quick Go gel during T1 but got a bit too excited and missed it, but it wasn't a big deal because I had several back ups prepared. I ate some energy bars in the first 100km to increase my carbs-per-hour on top of the sports drinks. I had three bottles prepared of simple energy electrolyte SIS mix. On top of these drinks, gels and bars, I added some more salt to make sure I stayed on top of things in Kona's brutal heat. This lasted for most the way till the special needs about 100k into the race. I had the same for the way back. I did grab some additional water bottles on the course for a change of taste and poured them over my head. I only had 1 Go gel with me and I saved it for the last 2k of the bike so I had some time to get organized for the run.
During the run, I took Go gels every 30-35 minutes. I added some salt tablets every 30 minutes until I lost them after 1 hour, and drank Coke for the last 30km during the run. I took the time to get some water and energy drinks at every aid station as well. I guess you can't get enough in the boiling heat out there. I still have to smile when I remember seeing Maik Twelsiek dive head first into the water bucket with all the sponges in it.
After the race, I had some Coke to get fast sugars in me and then a recovery shake 15 minutes later.
This was the first year I used special sports nutrition and if you compare my results from [2010 and 2011] to the previous years you can see the difference.
Follow Triathlete's senior tech editor Aaron Hersh in Kona @triathletetech.