Despite the Ironman World Championship taking place the day before Rev3 South Carolina, the pro field at this half-iron distance race was formidable. On the men's side, Sydney Olympian Rich Allen and series leader Andrew Starykowicz were the ones to watch. On the women's side, series leader Kate Major, Magali Tisseyre, Meredith Kessler, Malaika Homo and a handful of ITU racers including Jasmine Oeinck were ready to earn series points and a chunk of the $50,000 prize purse. This was the last race in the Rev3 series this year, making it the race where series champions would also be determined.
Written by: Erin Beresini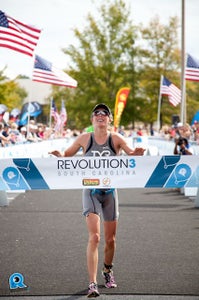 Starykowicz won both this race and the Rev3 series for a payday of $22,000, while Magali Tisseyre won the women's race, a feat good for $7,000. Kate Major, who came in sixth in South Carolina, won the series title and the $15,000 bonus that came with it.
MEN'S RACE
Starykowicz came out of the water over a minute ahead of Allen, ready to jump on the bike to try to increase his lead—Starykowicz is known for his powerful cycling, but Allen can outrun him. Starykowicz maintained almost 26 mph on the rolling hills through South Carolina's farm country to come off of the bike about four minutes ahead of Allen. So Allen put all he had into running Starykowicz down, but ran out of real estate on the mostly flat run course, coming up two minutes short despite running a 1:16:47 half marathon. Starykowicz crossed the finish line the victor in 3:54:46. Allen came in second just under two minutes back, and New Zealand's Callum Millward, who made his U.S. racing debut this year, came in third.

PHOTOS: Rev3 South Carolina
WOMEN'S RACE
ITU racer Jasmine Oeinck came out of the water first in 25:01 with Meredith Kessler and Tenille Hoogland chasing her down. Kessler took the lead early on in the bike with Oeinck and Hoogland hanging close behind, Oeinck smiling all the way through mile 20. Magali Tisseyre started over two minutes behind the early race leaders after a slow swim and started clawing her way back on the bike and run. And the run is what it all came down to in today's tight women's race. Hoogland entered T2 first, with Oeinck Homo, Tisseyre and Kessler all within 5 minutes behind her. Oeinck dropped out during the run, going to the medical tent feeling sick and dizzy. Meanwhile, Tisseyre busted out a 1:23:43 half marathon to cross the finish line in 4:24:23, just 17 seconds ahead of second place Hoogland. Kessler rounded out the podium 1:22 behind Hoogland.
TOP 10 PRO MEN
1. Starykowicz, 3:54:46
2. Allen, 3:56:40
3. Millward, 3:57:44
4. Berkel, 4:57:53
5. Kriat, 3:58:42
6. Krylov, 3:58:50
7. McDonald, 4:00:05
8. Cunningham 4:02:55
9. Jones 4:03:04
10. Thompson, 4:04:15
TOP 10 PRO WOMEN
1. Tisseyre, 4:24:23
2. Hoogland, 4:24:40
3. Kessler, 4:26:02
4. Homo, 4:26:28
5. Goss, 4:30:39
6. Major, 4:36:39
7. Brown, 4:42:18
8. Kozulina, 4:43:57
9. McDonald, 4:47:30
10. Jones, 4:47:59