Pro triathlete Andrew Starykowicz currently holds the top spot in the Rev3 Series heading into the final Rev3 race of the season in Anderson, S.C. Starykowicz had a rollercoaster of a season—a disappointing 10th-place finish at the Abu Dhabi International Triathlon in March, a stitches-requiring foot injury at St. Anthony's, an encouraging 6th-place finish at Rev3 Quassy and finally last month a win at the iron-distance Rev3 Cedar Point with a race-best 4:25:54 bike split. Starykowicz left a career as an engineer to become a pro and is now known as an extremely hard-working triathlete with a blazing fast bike. We chatted with him about the Rev3 series, the race this weekend and his future in triathlon.
Triathlete.com: How do you feel heading into Rev3 Anderson as the Rev3 series leader?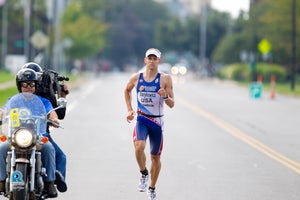 Starykowicz: It puts a little bit more pressure on that race, being the leader in the series. But I'm just going to continue to do what I've been doing all season because it's gotten me the lead in the series. And if I continue to perform like I have this season, I will hopefully remain the leader.
Triathlete.com: Who do you expect to be your toughest competition in Sunday's race?
Starykowicz: For the race, it's a big deal and there's a lot of unknowns. There's a lot of names that I don't regularly race; there's a lot of names that I regularly race. Of the guys I know, Brian Fleischmann is always a great runner. Whenever I'm racing, the run is my weakness and it's his strength, so if I'm going to see somebody, I usually end up seeing Brian at some point. As for the series, David Thompson. Chris [McDonald] I know can race very well, but David has just had a tough season. He hasn't had that shining performance that he seems to have once or twice every season. I've raced him almost every time we raced this year, and I haven't seen him have that incredible performance that I know he's always capable of. So hopefully he just doesn't have it Sunday.
Triathlete.com: As a really strong biker, what's your strategy for pacing?
Starykowicz: Well, normally you go not as hard as you would in an Olympic-distance race, and you go slightly below that intensity and you drag it out over 2 hours instead of just an hour. But this is my last race of the year, so I'm just gonna go. I'm not even going to think about pacing. I've done enough races this year of varying distances that I'm going to lay it all on the line and go for it. Yes, the ultimate goal of the weekend is to win the series championship, but I want to win the race. The best defense is a good offense, so that's going to be defense—I'm just going to go out and race as hard as I can, and go to the front and stay there hopefully.
Triathlete.com: Why did you decide to race Rev3 this season, or what is it about Rev3 that you like?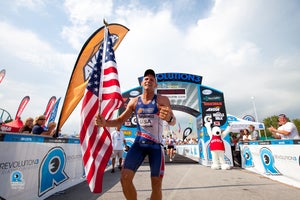 Starykowicz: The reason I raced Rev3 this season is because they are a team of promoters. It's a small staff, and in that staff—it's pretty much just a family-run endeavor. Families of the staff members are there just putting on these events. And they put on a world-class event, and they care about every single person—they care about the age-groupers, they care about the pros. I've raced a lot of other series—not just this year, but over a course of years—and they care about athletes more than any other series I've worked with. Last year, there were recommendations made by both age-groupers and pros for each of the races, and you came back this year and you saw that those were no longer issues at all. It was nothing major, it was minor. But they truly care top to bottom about their athletes. That's a group of people I want to be associated with.
Triathlete.com: What are your long-term goals as a triathlete?
Starykowicz: My long-term goals would be to be like a Greg Bennett or a Craig Alexander or one of those guys—or Hunter Kemper—10 years from now: pushing 40 and still racing. Longevity is definitely something I would seek as an athlete. I love the sport, I enjoy it a lot, and I want to be able to do it for a long time and not have to go back to the corporate grind.
Triathlete.com: So you won't go back to being an engineer again?
Starykowicz: Every day I'm an engineer. Every day, I'm out there looking at stuff that's come out through different bike companies, and wheels, just looking at it and trying to understand what they see—if it's hogwash or if there's any truth to these new designs and these new wheels.
Triathlete.com: Anything to add?
Starykowicz: Not much. I always have to thank those sponsors that support me. The best way to see who my sponsors are is to visit my blog (Astarykowicz.blogspot.com). … Every week [on my blog] I interview someone from the industry and try to get it up there. … I'm looking forward to my off-season. It's been a 50 weeks of hard training. And the only two weeks I had off is due to an injury, so I'm looking forward to a few weeks off and hopefully celebrate not just another race win but a series championship.
Triathlete.com: Do you know what your first race will be next season?
Starykowicz: My next race will likely be Rev3 Costa Rica in February. So the off-season will be short, but I look forward to starting the season back up next year. Right now, with so much in our sport and flux and changing, I can't even begin beyond the first race of the year most likely being Rev3 Costa Rica. I can't even begin to tell you what my schedule's going to look like. I know there's major changes coming in World Triathlon Corp. and the three series that they have, and I've heard that the Life Time Series might be expanding again or might be changing a little bit again. And the Rev3 Series has already announced and showed that they're expanding to more races next year. It's hard to figure out what I'm going to do next year, but one thing for sure is I like showing up to big races and racing my heart out.
To read Andrew Starykowicz's blog, go to Astarykowicz.blogspot.com. To learn more about the race, visit Rev3tri.com.