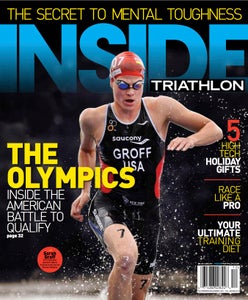 Ever wonder what it takes to become an Olympic triathlete? Hint: It's a tough and often lonely path that demands a whole lot of hard work and sacrifice. In our November/December issue, Inside Triathlon magazine snagged exclusive access to the American Olympic hopefuls who raced in the first Olympic trials event, in London in August, and we reveal details of those athletes' lives, journeys, successes, failures and future goals.
While our Olympic feature is the hallmark of the November/December issue, other articles you'll enjoy include a peek into six-time Ironman world champ Mark Allen's secret to mental strength, an in-depth analysis of the Zone diet and how it can help your triathlon performance, a feature on Zipp wheels, a look at the lessons we can learn from the best triathletes in the world, and much more.
Pick up the November/December issue of Inside Triathlon magazine on newsstands today.
Follow Inside Triathlon on Twitter and Facebook!
Click the thumbnails below to learn more about the issue: