Laura Bennett recently became a national champion for the third time in her career. She's also one of America's best ever ITU racers, having been on the podium at a world championship four times and fourth at the 2008 Olympics. She answered a few questions for Inside Triathlon editor-in-chief Courtney Baird as she prepares to qualify for her second Olympics.

Triathlete.com: How did it feel to win your third national title? Can you go over how the race went?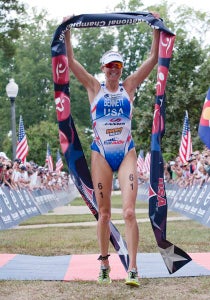 Laura Bennett: It was great to capture my third national title. The race unfolded to the old swim-bike days, where the race was determined after the first two legs. I believe the swim broke it up a bit, Lauren Brandon led both Helen and I out of the swim. Helen and I worked very well together on the bike to achieve a sizable lead on the rest of the field. Having this advantage allowed us to take the run "cruisier" than usual, but nonetheless I achieved my third national title.

Triathlete.com: What do you have on tap for the rest of your year?
LB: I finished my year with Nationals.
Triathlete.com: How are you going to prepare over the offseason for the all-important race in World Championship Series / Olympic qualifier in San Diego? Will you be spending some time down in Australia?
LB: We will have our base season again in Australia, which leads us into Sydney World Championship Series and San Diego World Championship Series/final Olympic Qualifier. I usually come out of Australia in good shape, as we don't do any travel for a good 12 weeks, giving me the consistency necessary to have solid early season performances. So if things go to plan, I should come out of Australia ready to be tested in Sydney and ultimately San Diego.
Triathlete.com: It's still a possibility that you and your husband, Greg Bennett, could go to the 2012 London Olympics together. Can you talk about what that would mean to you guys?
LB: It would be fantastic to be on the same Olympic team with Greg. We are very much a team, and our career performances since we have gotten together have proven that we are stronger when working together. Having said that, we don't always have to be at the same races to perform. It would be a great experience and advantageous to have both of us working towards the same goal, so we will stay on that path until we are kicked off. If that happens we will set new goals to experience together.
Triathlete.com: Can you talk about how you think 2011 went for you overall this year? What were some of the lessons you learned and how will they make you better for next year?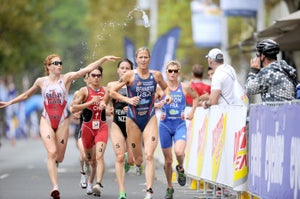 LB: I believe I had another solid year, as I did in 2010. Since the second World Championship Series race of 2010, I have had nine top-eight finishes at World Championship Series races, barring London of 2011, so looking at 2011, it seems to be a continuation of consistency. But I must say I am not pleased with fifth to eighth place finishes! It does show that I have been in every race, but haven't quite had the fitness to carry me to the next level. There have been minor speed bumps, but I think for the most part it could possibly be that all the racing, barring Sydney early season, is in Europe, and we don't base ourselves over there, so the travel is killing me. I have been getting better each year, but it just seems my competition is too and are just one step in front. So for 2012, I look forward to pooling all my consistency together and getting back to that next level. I am currently trying to get my bike position and run technique analyzed so that there are no changes in the year with that stuff, which something seems to pop up every year for me. So my offseason time is for getting myself all dialed in for the season.
Triathlete.com: Given that Kona just took place, what did you think of the races? Have you ever thought about jumping into an Ironman after 2012?
LB: Kona was fantastic to go to and watch. I believe it is about my fourth or fifth time. I have loads of respect for the guys who compete there. There is no other race like it. I think there is room for you to hide in the loads of other Ironmans, but Kona seems to debilitate the champions at it. I believe Crowie [Craig Alexander] is suited 100 percent to Ironman, and to see him suffer is crazy! So you think for yourself, there is no way. But I must admit, if I ever got a start, as I wouldn't want to have to do another one to get there, I would definitely take the opportunity to experience it, but I would train my butt off to do so. I couldn't imagine anything worse than going into that race underprepared, especially after seeing/knowing the ones who are and how they suffer!
[sig:CourtneyBaird]