Late last month three-time Olympian Hunter Kemper won his seventh national championship—a feat he accomplished in 1 hour, 48 minutes and 24 seconds at the USA Triathlon Elite National Championships in Buffalo, N.Y. His seventh career national title put him ahead of legendary triathlete Scott Molina for most U.S. national championships, and it ties Karen Smyers for most ever by an American.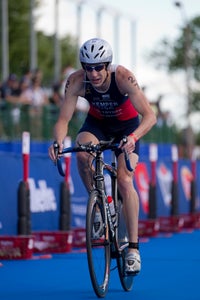 Kemper was kind enough to chat a bit about his win with Inside Triathlon editor-in-chief Courtney Baird.
Inside Triathlon: How does it feel to be a 7-time national champion?
Hunter Kemper: You know, it's better than six—I've got to tell you that. It feels good, because it's been a long gap between when I won my sixth one. It was 2007, I believe. [Ed note: It was actually 2006.] It's been four years, and a lot has happened—a lot of ups and downs and a lot of difficult injuries and stuff. But, you know, it was good. It's a culmination to my season this year. For one, I've been healthy all year and been able to race up into the double digits. I raced 15 times in 4 years prior to this year, and this year I've raced 12 or 13 times. The national championship puts the icing on the cake. Hey, it was another good race and another nice title to have. I was able to break Scott Molina's record and tie Karen Smyers' record. They are amazing athletes and it's always good to be considered in their company. Hopefully I'll win some more after here—hopefully I can add to the number.
IT: Any tips on managing such a long season?
HK: I'm almost on my third somewhat taper. I had London [the first Olympic trials, at the ITU Dextro Energy World Championship Series London] and Hy-Vee, and London was a hard-core taper. Hy-Vee was a month later, so it was an extension to that. Then I have Pan Ams, as well. My tip would be to have two peak races—three starts to get a bit much. I think it's good to have certain key races. It keeps your training fluid and cyclical and it gives you something to shoot for. By having two peak races as your main A races, that's what helps you almost prolong your season. Ultimately after one of those peaks you have to have a solid rest week—you have to have an active recovery week. For example, you might just do one sport a day as an active recovery week. I've definitely had that. After London, after all the pressure and buildup and it not going well for me, my sister got married the week after and it was a nice little release and de-stressor. [The wedding] was in Florida and it's hard to train in 100 degrees. You can still have those rest weeks and still race well. I raced well in Hy-Vee three weeks later. Ultimately once you get to a certain level, it's easy to maintain it throughout. The work comes in the early months for our season. You have your build-up and then it's just fine tuning things to get the most out of you. I would focus on having two or three peak races, as opposed to eight races that are all the same. That can be boring and monotonous.
IT: How are you preparing for the second and final Olympic trials qualifier, which will be the ITU's World Championship Series event held in May in San Diego?
HK: Obviously, I'll do some down time November and December then just start ramping it up. I want to do Mooloolaba and Sydney, but who knows. I think [the Americans] will have a good showing [in San Diego] because the time zone will be in our favor. My run sharpness will have to be much sharper in May than it normally would be. It will be a slow approach and then I'll wind myself up come around April. I have to be careful because I can't overdo it. My body has been great this year, but the past hasn't been so good. It would really been a crushing blow to go there and not be healthy. If I am healthy, I have the confidence that I can be part of the [U.S. Olympic] team. Once the race schedule comes out next year, I'll stay in the Springs [Colorado Springs, Colo.] quite a bit. We're having our third child near Thanksgiving and with Val being pregnant, I'll do some indoor training to gear up and acclimatize to San Diego—it might be a little warmer there.
IT: Are you going to be paying attention to Kona? Any picks?
HK: Oh for sure. With my Twitter followers, you just can't help it. I was in Dallas this past weekend for [my sponsor] Toyota and doing stuff with them and talking to Andy [Potts] and him doing that double, which was crazy. [During Kona] I'll be in Myrtle Beach [S.C., for a race] and gearing up for the next day. I will be having the computer on and be following it. I do pay attention—I have a lot of friends over there. I always pull for the ITU guys. You look at [Javier] Gomez and [Lisa] Norden this past weekend and it shows you that the ITU's [bum] rap is going away quickly. [Ed note: Gomez and Norden won the U.S. Open Dallas Triathlon.] I think the ITU has the most talented athletes by far, and they can cross over [to other disciplines]. I'll be pulling for ITU. Guys like Rasmus Henning, who came from the ITU fairly recently, and even Andreas Raelert, who was ITU all the way through 2008. I always want to see Americans do well, too. Andy and Tim [O'Donnell]—it'll be Tim's first one. O'Donnell, he's got a good person in his house to give him some good advice. [Ed note: Tim O'Donnell dates reigning Ironman world champ Mirinda Carfrae.] I'm sure he'll learn a lot beforehand. I'm always a fan of the sport of triathlon. I'm a fan of Ironman. Macca's not doing it, so there won't be the words flying much beforehand. Ultimately for the men's side, Craig Alexander's half ironman [his second 70.3 world championship title] was awesome, what he did there. Him, Marino [Vanhoenacker], who set the world record, which was then broken by Andreas, those guys will be there. The dark horse is Rasmus, and maybe he can pull out a good one, too. I think experience has so much to do with that race. I think right now the way Alexander is talking and how his running is going, he's going to make sure—he will not get off the bike as far down as he was last year. But will he be able to finish it off? It'll be fun. I'll be watching and following. I also hope Matt Reed does well. He's a buddy of mine. I think it's tougher for the bigger guys, just naturally. I think when you're bigger, it's OK if you're in a slower race, but when guys start lighting it up, it takes it toll. I think he's just going there to get some experience.
Inside Triathlon: Thanks Hunter!
[sig:CourtneyBaird]