This Sunday, three-time Xterra world champion Melanie McQuaid hopes to regain the title she most recently held in 2006. Melanie talked to us about recent game changing switch-ups to the pro women's field, her strategy for the swim (it involves much bodysurfing practice), and how age-group competitors should attack the new course.
Triathlete.com: There have been some changes to the pro women's line-up: Julie Dibens and Shonny Vanlandingham are out due to injuries. How does that change things for you on Sunday?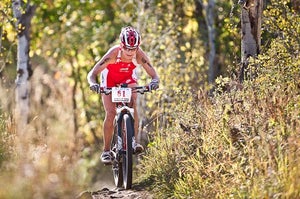 Melanie McQuaid: Yeah, it's been a rough year for the women's field—they're dropping like flies. It's too bad. This year I felt like I did some things right and recently I've had some good indications that my form is good. Julie and Shonny are among the favorites, especially on the bike, and without them I think this race is going to be blown apart on the bike. Not having them here is too bad because as returning world champions they'd be the two biggest favorites. So when the two biggest favorites are not there it sucks for all the women. I think it would have been good to see how my riding was this year because no matter what they would have been among the best bike splits too. I'm definitely disappointed that they're not here but that being said I've come here and totally sucked the past couple years; I'm probably not even a favorite anymore. It would be nice to actually try and find the front of the race here for once since it's been kind of a long time. I've felt pretty good coming into this race before and not performed so it's not a done deal no matter what. This race can do crazy things and there are a lot of girls that have been beating me here that I would never see any other time of the year. There are definitely girls that will be coming here and will be fast.

PHOTOS: 2010 Xterra World Championships
Triathlete.com: You don't have a history with this course, so do you think Maui could go a lot differently for you than it has in the past?
McQuaid: It will be completely different. Despite the fact that this course is still not very technical, you have to be able to control the bike better than in the past. In the past you'd kind of just aim in a straight line and rocket downhill, whereas there's quite a few twists and turns on the new course and having some technical skills will help you maintain your momentum a little better. I think the bike course is actually harder because you can actually go fast or slow whereas in the past you were just trying to get up things without having to push your bike. It's not all consistent climbing; I think the second half of the bike course is going to be really telling as to where everyone's fitness is. The run course is all uphill and then all downhill so it's definitely a mountain climber's race. All I can say at this point—without having raced it before—is it's a massive improvement no matter what. It's better when it comes down to your fitness—not mechanicals—and it's more fair. There's no kiave [thorns] for us so there aren't going to be as many flats. And I just think the course is a lot more fun—it's more interesting. You go through all these different climates between the run and the bike, there's more diversity, it's beautiful. I think it's a more worthy course.
Another interesting thing is that the front end of this course is quite steep with a lot of slow climbing, so you're not going to be able to draft like you could on the old course. You can do some serious drafting at the end so it's going to come down to who you can ride with at the end.
PHOTOS: 2011 Xterra USA Championships
Triathlete.com: I heard the swim is going to be very different, too—more of a true ocean swim. Have you been on the swim course yet?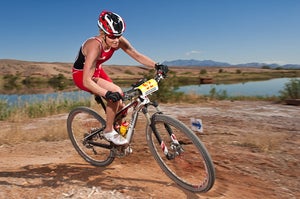 Melanie McQuaid: I got in the water and got pummeled by six and eight foot sets. It's a legit shore break, and this weekend it's supposed to be windy so there's going to be some big surf. It's the same for everyone so I just hope I'm better than other people. I'm not going to be good, but I'm hoping I do better than other people. It's actually changed the dynamic of the race because since it is a shore break the Xterra folks have decided that we're only going to do one lap, which works to my advantage because I tend to lose the pack going in and out of the water. So I'm happy with that change but certainly I'm going to do some practice just getting out of the water because you can make up a lot of time being able to ride a wave in rather than have it crash on your head.
Triathlete.com: Any advice for age-groupers going into Sunday's race?
Melanie McQuaid: The bike course is going to be quite taxing so pace yourself. We rode it last week. When you get to 13 miles it feels like you've been riding for a really long time. You can make significant time in the second half of the course because I think a lot of people are going to leave all their cards out early. Some appropriate pacing according to your fitness is going to make a big difference. Because the course is so steep on the run, it favors the mountain bikers as well—it's not really running when you're going directly up hill like that, you're using the same muscles that you use when riding. This is definitely a mountain biker's course.
More Xterra World Championship Coverage:
– Checking In With The Cavemam
– Lance Armstrong: Maui's X-Factor