In his first triathlon in more than two decades, Lance Armstrong finished fifth at September's Xterra National Championship in a stacked field of international pro talent. This Sunday, he'll race his second Xterra—the 2011 world championship on a brand new Maui course. Armed with the knowledge and experience he gleaned in Utah—and with some seasoned guidance from first-ever Xterra world champ and longtime friend Jimmy Riccitello—Lance will undoubtedly be a factor in Sunday's showdown, where he'll face an even stronger field than Utah, one that in addition to off-road heavies like Conrad Stoltz and Dan Hugo will include German Olympic champion Jan Frodeno, former Xterra world champ Eneko Llanos and cycling standout Michael Weiss.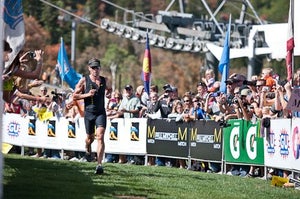 In the weeks after his triathlon re-debut in Utah, Triathlete asked Lance why he chose Xterra. "I spend a lot of time with Jimmy Riccitello and we had always talked about doing an Xterra at one point," he said. "I just thought that it was a logical place to go. …I've been doing a lot more mountain biking than road riding so that was another factor."
Xterra's first world champion and an inductee into its Hall of Fame, Riccitello knows a thing or two about the rigors and rewards of the off-road scene—how it's not about pure speed and race splits as much as it is about having versatile strength and nimble mountain bike skills.  And how the beauty of Xterra lies in the reality that any racer can have his or her day in the sun if their strengths align just right with any single, distinct Xterra course.
PHOTOS: Xterra USA Championships
"I thought [Xterra racing] would be something that he would enjoy and be good at," Riccitello told us in a recent phone interview. "Timing wise, it's a good time now, and training wise I think he's got everything figured out. He's a quick learner but he's going to be up against 10 more guys than the four guys that beat him last time. It's just good and fun to see him in the sport again. You know he's going to go out there and give it 100 percent. The whole unknown is fun."
Riccitello says that the element of the unknown has always been one of the most enjoyable aspects of racing Xterra. "No one knew where everyone was at [fitness wise] and you never got to pre-ride the course," he said. "Picking the right tires, tire pressure, the right bike—it was all kind of fun. Now it's fun for me to be back in it in any way. It may even get me back racing sometime soon."
PHOTOS: Lance Armstrong's Trek Superfly Mountain Bike
Until then, Riccitello offers up his pro men picks for Sunday: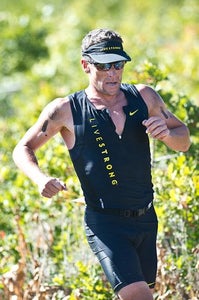 "Well, never count out my buddy…but as far as the favorite, it's Conrad without a doubt. He wasn't at his best in Utah. I know he crashed in Whistler so maybe he was a little more banged up than he let on. But based off his performance last year, he's my top pick—he's Conrad, he's the Caveman. [Xterra USA champion Nico] Lebrun was very impressive in Utah, as was Dan Hugo—he was driven. Eneko Llanos—he's a stud, and he's won it. I think the dark horse could be Michael Weiss—a phenomenal mountain biker. Conrad and Weiss would be my top two picks."
As for Lance?
"It would be super to see Lance in the top ten," said Riccitello, who used to race against Conrad on the road. "He has the potential to do really well. Having seen firsthand the kind of schedule the guy keeps and knowing the motivation it takes to train when you're that slammed—it's what has always impressed me about him. He's a driven guy and after all these years he's willing to squeeze in a ride and a run so he can go race Maui—it's cool."
Follow Triathlete editor-in-chief Julia Polloreno (@JuliaPolloreno) on Twitter for updates from the Xterra World Championship this Sunday.
More related content:
– Lance Armstrong Wins Arizona's Four Peaks Urban Dirt Triathlon
– Lebrun And McQuaid Win XTERRA USA Champs, Lance Armstrong Finishes Fifth