The United States' Hunter Kemper's broken elbow will keep him out of the 2011 Pan American Games.
See the complete press release from USA Triathlon below: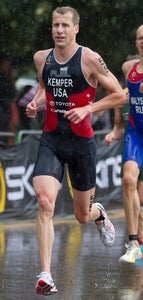 USA Triathlon today announced that three-time Olympian Hunter Kemper is withdrawing from competition at the upcoming 2011 Pan American Games in Puerto Vallarta, Mexico, after suffering a broken elbow this past Sunday.
He was injured during a bike crash at the 2011 USA Triathlon Elite Race Series Finals in Myrtle Beach, S.C. Kemper (Colorado Springs, Colo.) was the series points leader heading into the event, which also serves as an International Triathlon Union (ITU) Continental Cup.
The 35-year-old underwent a surgical procedure yesterday to ward off infection, and the full extent of his injury will be determined next week when he is expected to undergo a second surgery.
Manny Huerta (Miami, Fla.) was the designated U.S. alternate for the Pan Am Games and is now scheduled to replace Kemper for the men's race on Sunday, Oct. 23 pending approval from the U.S. Olympic Committee (USOC) and the Pan Am Games Organizing Committee (COPAG).
"Hunter was well on his way to completing a stellar comeback year and, while this injury is an unfortunate delay, we hope he'll soon be in a position to vie for a spot on his fourth Olympic Team next year in London," said Rob Urbach, USA Triathlon CEO. "Hunter means a lot to our program and we wish him a full and speedy recovery."