Three-time Olympian Hunter Kemper continues to undergo medical evaluations after he suffered a broken elbow on Oct. 9 at the 2011 USA Triathlon Elite Race Series Finals in Myrtle Beach, S.C.
See the complete announcement from USA Triathlon below: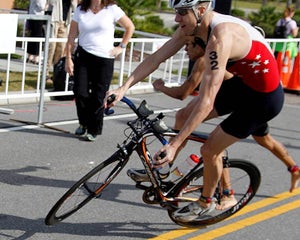 Physicians have been waiting for the external road rash to heal before performing surgery to repair his left elbow. As of now surgery is planned for Friday, Oct. 21.
The injury occurred when Kemper was completing the first lap of the bike course and as the last swimmer entered the transition area prior to being lapped by the two lead cyclists. Kemper and Tommy Zaferes had formed a two-man lead group, 55 seconds ahead of the chase pack, on the bike as they entered the transition area at a high rate of speed (35-40 mph).
When the athlete suddenly ran in front of them, the lead cyclist swerved to avoid him at the last second. Kemper, who was positioned immediately behind the lead cyclist, had no chance to react and subsequently clipped the lapped athlete while riding past him. Kemper immediately fell hard to the pavement and was taken to a local hospital.
Kemper (Colorado Springs, Colo.) was the series points leader heading into the event, which also serves as an International Triathlon Union (ITU) Continental Cup. As a result of the injury, Kemper was forced to end his season and withdraw from competition at the upcoming 2011 Pan American Games in Puerto Vallarta, Mexico. Manny Huerta (Miami, Fla.) is scheduled to replace him for the men's race on Sunday, Oct. 23.