With less than a week until the Ironman World Championship, Craig "Crowie" Alexander has officially (and somewhat unsurprisingly) announced his split with Orbea on Facebook today: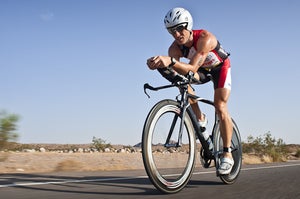 "I want to announce the end to my 7 year relationship with Orbea. After much thought and discussion, we have mutually agreed to part ways on an amicable basis in order to pursue other opportunities.
I have no hesitation in saying that our partnership has been an extremely successful one. Since the beginning of 2005, together we have won 3 World titles, 2 World Championship Silver medals, nearly 30 half Ironman races, as well as Olympic Distance classics, such as Life Time Fitness, Minnesota and Chicago.
Neri and I would personally like to thank Orbea for their support over the past 7 years and wish them well into the future."
Rumors about what bike Alexander will ride in Kona have been circulating since he won the recent Ironman World Championship 70.3 on an unlabeled bike that looked to be a Cervelo P4. Stay tuned for an update on what Crowie will be riding this Saturday!