Triathlete.com: And then Lance Armstrong will be back, as I'm sure you've heard.
Stoltz: Yes! That will be interesting; I think he learned a few lessons in Utah and I'm sure he's been training a lot more seriously than how he trained for Utah—it sounds like it wasn't that specific or all that focused—and I think for this race, even though the bike course is a bit more technical than Utah I think he's gonna come a lot better prepared. It's a huge honor to race an athlete of that caliber—just the focus and attention he brings to the sport is great.
PHOTOS: 2010 Xterra World Championship
Triathlete.com: We asked people to send us questions for your over Twitter, and Lance—well Juan Pelota—asked if you would play nice on Sunday. Will you?
Stoltz: [Laughing] That's the thing with Xterra—everyone is laid back, including the pros. No one is aggressive, no one has attitudes, we just get together, race hard and have fun before and after. There are no big egos—that's gotta be refreshing.
Triathlete.com: Another question from a fan: How much will you plan for bike mechanicals—flat tires, a broken chain—when you race Sunday?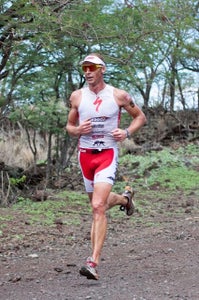 Stoltz: There's a lot less lava on this course than the old one, so flat tires won't be as much of an issue like before. On the old course, mechanicals were really an issue because of all the thorns and the rocks and the fact that you couldn't see the course. Now we can pre-ride and it doesn't have nearly as much lava and any thorns so the chances of getting a mechanical are a lot smaller. I will still take a spare tube and a tire plug and be prepared for whatever is going to happen.
Triathlete.com: What pressure will you be running in the front and rear?
Stoltz: I'm riding a 2.2-inch wide tire, which is wider than a normal tire because of the loose terrain. I'll run 24 psi in the front and 29 in the back. If it rains, it's going to get extremely muddy and the race is really going to get upside down. It's the wet side of Maui so it does get a fair bit of rain and it's possible that it will be quite slick.
Triathlete.com: How's the swim course?

Stoltz: There have been surfers out there for the past four days straight. There's a fair amount of swell coming in and it's really bumpy and has some beach breaks. People who are not used to swimming in the ocean will get a big surprise—it's a real ocean swim. I love that. Coming from South Africa, we grew up in the ocean and it's pretty rough.
Triathlete.com: What's your game plan between now and race day?
Stoltz: I've trained really hard the last few weeks and have taken this week really easy to make sure I recover properly from all the training I did. But I'm very happy—my power is higher on the bike than it was last year this time. I'm just going to take it easy the rest of the week. I'll go look at the course—it opens Wednesday and make sure I know it as well as I can and just get ready for the race.
Triathlete.com: Okay, this is unrelated, but another question from a Twitter follower: Did you see that video circulating on YouTube of the mountain biker in South Africa that was literally tackled by what looked like a gazelle? Anything like that ever happen to you back home?
Stoltz: I've had a couple of close calls—nothing like that, though! I ran into three black mambas, which was quite scary—one of the most poisonous snakes in the world; they get up to 12 feet.
Follow Triathlete editor-in-chief Julia Polloreno (@JuliaPolloreno) on Twitter for updates from the Xterra World Championship this Sunday.
Related Content:
– Lance Armstrong: Maui's X-Factor
– The Caveman Looks Forward To Xterra USA, Racing Lance Armstrong