We caught up with the reigning Xterra world champion, who offered his insight on the new Maui course, going up against an Olympic champion and a cycling icon on Sunday—and 12-foot long poisonous snakes back home in South Africa.
Triathlete.com: You finished fourth at the Xterra USA Championship in Utah last month. Looking back, how do you think that race went?
Conrad Stoltz: The course there really doesn't suit me. It's a point-to-point race and there's a lot of climbing—there's not an equal amount of downhill riding. I'm just a lot bigger than most of the other athletes. I'm a good rider, but that course is really a climber's course. It wasn't very technical, either, and it's at altitude. It had pretty much everything that I don't like in a course. Also my form wasn't there and I just wasn't strong enough. I crashed in Canada a couple of weeks before and wasn't able to do the quality training I needed to do. I just really wasn't good enough to overcome the obstacles of that course.
Triathlete.com: How has your training been going since Utah?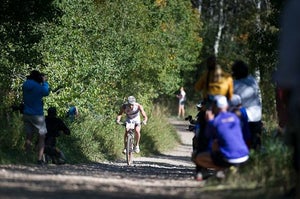 Stoltz: Fortunately I've had a month of training so I could really cram in as much training as I could and have made some pretty noticeable improvements in performance. Just getting out of altitude made a big difference—I went to Kona straight from Utah, and training at sea level has really made a big difference. I was able to get much better power on the bike.
PHOTOS: Xterra USA Championships
Triathlete.com: Tell me about the new Maui course.
Stoltz: It's better than what we thought it would be from what we saw on Facebook and YouTube. It seemed like a lot of climbing and required not as much skill, but when I rode the course I realized it does require some skill—not a crazy amount, it's not a technical course—but it's more of a mountain biker's course. It's a hard course, it's tough. It's going to take a long time. The run is very hilly—there's not one meter that is flat, it's either steep up or steep down. The field is really stacked and it's a really challenging course so it's gonna be a good race.
Triathlete.com: Looks like you'll be going up against former Xterra world champ Eneko Llanos once again.
Stoltz: He should be in great form because he didn't finish Ironman [Hawaii]. He's quite rested and physically he'll be in great shape. But I'm not sure if his [mountain biking] skills are good enough to really make an impact on this course, because it does have a fair amount of mountain biking to it.
Triathlete.com: What about Jan Frodeno from Germany?
Stoltz: Jan is a dark horse, an Olympic champion, amazing swimmer and really fast runner. In the road triathlon scene he's a strong cyclist, and we'll see what kind of skills he has. I don't really know, I've been riding with him once or twice and it's hard to say. He's also riding the Specialized 29er like me. Racing against an Olympic champion is obviously quite a big treat so I look forward to that.
Triathlete.com: Your countryman Dan Hugo had a great race in Utah, and it seems he's really upped his game.
Stoltz: His form was really good in Utah so it will be interesting to see if he has picked up even more form. Even if he's just maintained his form he'll be a serious contender. He's a good all-arounder, also riding a Specialized bike.