The 18th annual Challenged Athletes Foundation (CAF) San Diego Triathlon Challenge is taking place this weekend and newly-crowned Ironman world champion Chrissie Wellington will be a part of the festivities. Learn more about the event, and Chrissie Wellington's participation, from CAF co-founder Bob Babbitt.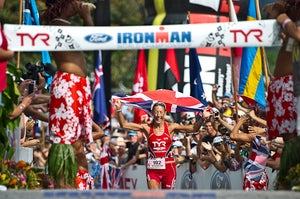 We are so excited to have four-time Ironman world champion Chrissie Wellington with us for CAF's 18th annual San Diego Triathlon Challenge this Sunday. The weekend kicks off with clinics on Saturday at the Jewish Community Center in La Jolla, Calif. Some of our 200+ challenged athletes will be involved in amputee running clinics, as well as swim and triathlon clinics for both amputees and paralyzed athletes. Chrissie will be at the clinics on Saturday morning and then will join us for some presentations, packet pick up and autograph signing at the new CAF building in the afternoon.
PHOTOS: 2010 San Diego Triathlon Challenge
If you haven't participated in the San Diego Triathlon Challenge, as two-time Ironman world champion Chris McCormack will attest, it is absolutely the best day in triathlon. The goodie bags for the 700+ participants (the event sold out two months ago) are the best in the sport and, with the event being less of a race and more of a happening, everyone swimming, cycling or running-able bodied or challenged- has a smile on their face all day long.
On Sunday, Chrissie is going to be part of a relay team which features Amy Dodson, who is missing both a lung and her lower leg, doing the 1-mile swim and lower leg amputee skateboarder and snowboarder Evan Strong doing the 44-mile bike ride. Amy just finished up a 680-mile relay run from San Francisco to San Diego Wednesday night as part of a ten person team and ran north of 80 miles since last Saturday. Chrissie will anchor the relay by running 10 miles and we're sure she'll be accompanied by a number of CAF athletes.
For more information check out Challengedathletes.org.