In honor of triathlete Chrissie Wellington's return to Kona in 2011, Brooks Running created only 200 pairs of a custom T7 Racer. Wellington wore the T7 Racer lightweight racing flats when she broke the world record at Ford Ironman Arizona last November.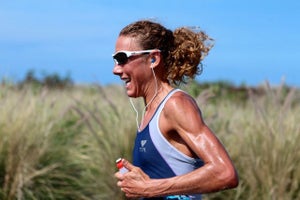 "The T7 Racer is an amazing shoe!" said Wellington in a Brooks press release. "I love the way Brooks modified it to suit my specific needs, and that they've created a promotion around this shoe that supports a cause that's important to me."
To modify the lightweight, ultra-flexible shoe, Brooks added details such as a British flag depicted on the heel counter, a sockliner with a special message for Chrissie, and the words "War on ALS" inscribed on the heel.
Brooks will donate all proceeds from each pair of Wellington edition T7 Racers sold to the Blazeman Foundation for ALS, a charity that Wellington has been involved with for years and is close to her heart.
Follow Wellington tomorrow as she races in the 2011 Ironman World Championship in Kailua-Kona, Hawaii.
You can order these limited-edition shoes from Brooksrunning.com now for $85. Available in men's sizes only. For women we suggest ordering 1.5 sizes smaller than what you usually wear.