A look at the BMC TM01 Ronnie Schildknecht will be riding in this weekend's Ironman World Championship. Schildknecht has had success in Kona, finishing fourth in 2008.
Although the name Ronnie Schildknecht doesn't show up in many North American race results, the Swiss triathlete has established himself as one of Europe's best. He recently won his fifth Ironman Switzerland title, and now hopes to improve upon his fourth place finish at the Ironman World Championship in 2008. He will attempt to do it on this all-new BMC TM01.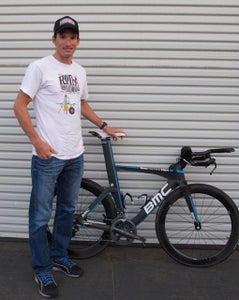 The BMC TM01 has a unique modular stem system that can be adjusted to accommodate different fits and Schildknecht's TM01 is set up with the tallest stack height possible. The TM01 uses a flip-able wedge and multiple shims that can be added or removed to position the aerobar, and the European IM star has all these parts positioned in the tallest configuration. His aerobar further adds stack height to Schildknecht's fit. The Vision Vector aerobar he rides is tall in stack height, and Schildknecht added an additional shim beneath the elbow pads to lift them roughly another centimeter. He uses standard hardware—bolts and nuts—to assemble the bar. Schildknecht has a Profile Design Prosvet carbon basebar but he obscures some of the logos with electrical tape.
He uses Shimano Dura-Ace Di2 components. The wires that connect the shifters to the derailleurs and battery—hidden in the seat tube—route through the frame. The adjustment switch is positioned behind the basebar. His has a 54-tooth big chainring and he rides an 11-25 cassette. He pedlas Look Keo Max pedals, not their high-end Blade pedals, and sits on an extremely worn Fizik Arione Tri 2.
Schildknecht races on Smart Enve 6.7 race wheels, designed with a wide rim to smoothly integrate the Schwalbe Ultremo HT tubular tires with the rim to create an aerodynamic tire and wheel system. The rims are laced to DT Swiss 240s hubs and Schildknecht uses Enve's carbon-specific brake pads. The valve extenders are wrapped with a plastic sheath to prevent them from rattling against the rim.
When we met up with Schildknecht, he had two standard bottle cages on the frame but he will be racing with an aero bottle on the downtube and a drink system between the aerobars.
Written by Triathlete's senior tech editor Aaron Hersh. Follow him @triathletetech.